Today I am reviewing a single disposable Electronic Cigarette called Bloog, from bloogplanet.com. It came in a nice sealed package along with a $10 discount on next order included inside, like so: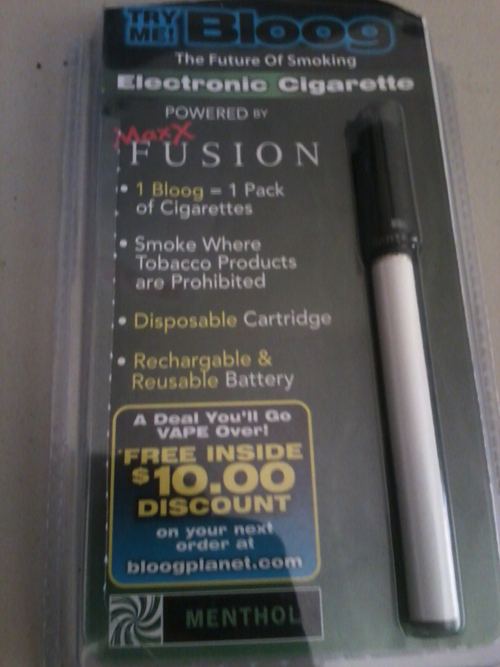 Upon opening it I was a bit confused why there wasn't an end piece to the cartridge. One thing I noticed is that they had no instructions about this part. The instructions included three sentences on how to screw the battery into the cartridge followed by simply inhale to activate the battery. After looking at it soon realised inside one of the rubber ends that came on the ecig there is a solid piece of rubber inside one. You just put that whole end back on over the open cartridge side and that piece of rubber inside of it gets stuck inside the cartridge when you pull it back off, leaving a tiny hole in it for the vapor to escape upon inhale. Thought that was pretty cool idea but would of definetely thought that would be in the instructions, a beginner could easily mistaken the two cheap rubber ends with no holes as garbage to prevent leaks upon opening.

Now on to reviewing the actual electronic cigarette in action. It's an 11mg Menthol Bloog to begin with. I vape 18mg e-liquid typically so don't expect it to be perfect for my preference. I really enjoy the automatic activation upon inhale, it's great not having to push a button. For me the throat hit is very light to none and that's one of my major have to have features of the electronic cigarette. The vapor production is a little less than average but still not to bad. The e-liquid flavor itself tastes good, but again doesn't have much throat hit at all. The menthol is really where the light throat hit is coming from.
Overall, this is a decent cheap electronic cigarette for a beginner. I'd say for maybe a person who smoked lights or doesn't prefer throat hit much this would be something you might like. For a smoker who smokes harsh cigarettes or an already experienced vapor who enjoys the throat hit, I wouldn't recommend this at all for that person.