If you haven't read any of my past iVape reviews and understand why this particular vendor hits a soft spot with me, then I'll gladly give you a brief summary. iVape.net happens to be the first vendor I've ordered USA E-Liquid from back almost 2 years ago. I've always had a great relationship with iVape just because of the top-notch service, the quick shipping times and the quality products.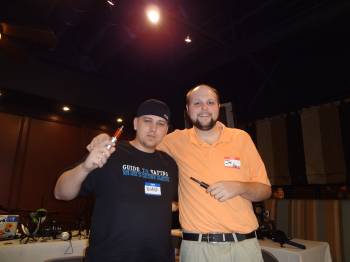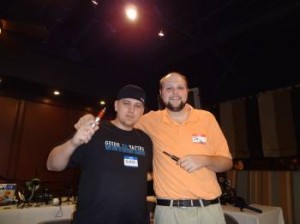 In addition, Joe – the owner of iVape is quite the guy. Joe is known around the community for being super friendly and a sense of humor that could make anyone have a great time. I've talked to Joe many times and raved about his Cherry Limeade and Blackberry Lemonade E-Liquid, that once my Wife and I had the chance to meet him at the Atlanta Vape Meet, we were filled with excitement and he truly made our time a very memorable one. (Thanks a lot Joe!)
Now, let's get onto the actual review of the eGo T3 Sol Fuego…
The Sol Fuego looks much like the many other CE4 and CE5 tanks you're used to seeing… but the Sol Fuego is quite a bit different. Like many others, the Sol Fuego comes in a variety of colors like clear, black, yellow, green, purple and my personal favorite, blue. Though it may resemble others, this T3 design is much superior.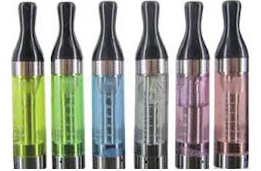 Differing from the rest, the T3 Sol Fuego offers a changeable one piece bottom coil design that comes in a Standard Resistance or Low Resistance. The wick is very short giving your tank a very clean look. The tank holds up to 2.4ml's which is great for even the long drives when out and about. Times have changed in the vaping world and many vapers are over having to constantly drip. Tanks is where it's at.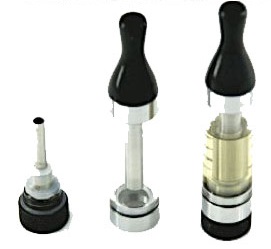 The ease of refilling on this bottom coil design is outstanding. You simply unscrew the bottom coil from the tank, a slight tilt and pour. Top it up, screw the coil back on and you're golden. While we're talking about ease of use, changing the bottom coil cartomizer is brilliantly simple. Unscrew the bottom coil and replace it with another at anytime… and with a small price of $2.95 per replaceable coil, you're getting quite the deal for how long they last. (I'm on my second week and it's showing strong.)

The taste using the Sol Fuego is surprisingly very clean and crisp. To be quite honest, the cleanliness of the vape is light years away from others like the CE4's and CE5's that I've used. Airflow is always a deal breaker for me, rather it be with my PV itself or the cartomizer and tank I use. The Sol Fuego has a very smooth and airy airflow, which is awesome being it helps with its monster vapor production. When I say monster vapor production, I'm talking huge clouds. In addition to its clean taste and well designed airflow, I find it to surpass my beloved Boge cartomizers in this category… and that's saying a lot.
I've used the Sol Fuego on my Stallion APV exclusively and it's worked well at high wattage as well as lower wattage's  If you're a Chrome VariTube (LavaTube) owner, you'll need a 510 to eGo adapter for the Sol Fuego to work. The Chrome VariTube/LavaTube has a built-in eGo connection, but the Sol Fuego doesn't fit, which I find very odd. I've also noticed that the center post on the bottom coil may need to be pulled out just a bit for it to make a connection on some PV's. My only real concern with the Sol Fuego is its ability to wick properly and this seems to be the problem with all of the clearo type tanks. With every 5 or so vapes, I have to either take a pull without hitting the fire button or I have to screw the coil a quarter turn to allow more e-liquid. The more I've used the Sol Fuego, the more I've questioned if the aggravating wick issue is worth the close to perfect vape this tank offers. When the Sol Fuego wicks properly, it's great…. when it isn't, it's a headache.
Edit: I recently got a tip from another Sol Fuego user… There is a rubber insulator on the top of the coil and just above the wick. If you pull that rubber insulator up, flip it backwards and place it back down on top of the coil, the issue becomes pretty much non-existent. I have noticed though if you chain vape trying to get that dry taste, it starts to appear very mildly. Also, once you do flip this rubber insulator and screw your coil back in, the first few vapes will be a bit gurgley. I think flipping that insulator allows more e-liquid to get into those holes where the wick sticks out. Obviously this rubber piece is covering that area a bit too much.
Overall: The T3 Sol Fuego is an awesome, clean and crisp vape matched with huge vapor clouds. That alone turns me onto to this cartomizer tank, but the ease of use is an even greater bonus. I don't want something I have to keep tinkering with, I just want something that's easy, vapes well and produces clouds… and that's what I partially got with the Sol Fuego from iVape.net. The wicking issue was a big concern until I flipped the rubber insulator that rests on top of the coil. The wicking is better than the rest of the clearo tanks I've used like CE4's and CE5's with or without the issue, but that isn't saying much when the others aren't always up to par. I definitely recommend trying the Sol Fuego namely because of the clean taste, huge vapor production and ease of use.
If you're interested in the T3 Sol Fuego Bottom Coil Changeable Cartomizer, please visit www.iVape.net