The Kanger MT3 is simply the T3 (which is bottom coil changeable) in a metal tubing with 2 sight windows on the sides. Being that I've already reviewed the original Kanger T3, there wasn't much need in a review for this… until I got to spend a bit more time with it and enjoy its vapey goodness.
Strangely, the MT3 seems to perform better than the original T3. From what I know, the MT3 is exactly the same as the original, but I've heard rumors that the T3's coil in general have been 'updated'. Don't hold me to that, it's just hear say.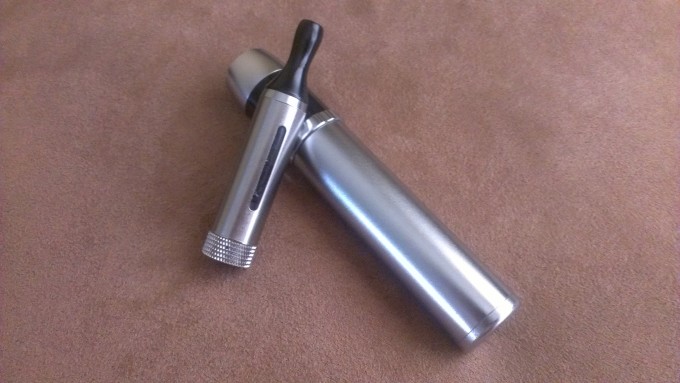 Just like with the last and original T3 I reviewed for iVape, this one works just as well. I however didn't enjoy the original completely without removing one of the wicks from it. Once the wick was removed, the T3 vaped pretty good, minus the gurgle. With the MT3, I learned from the last and immediately pulled out one of the three wicks it has. From the first pull, the MT3 was rockin' with a steady feed of liquid, nice airflow and a good amount of vapor to match them both.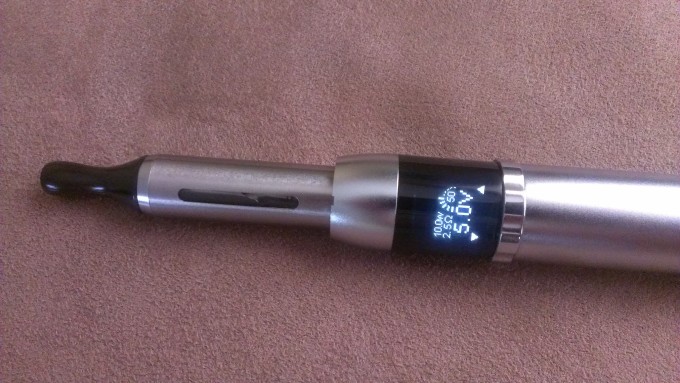 The MT3 gives me no gurgle, seems to wick much better (might be this coil specific – as notation, I still have to do a dry pull every once in a while) and gives off a better appearance all together. The Metal T3 3ml tank looks great with its 2 sight windows indicating the e-liquid level, but it looks even better paired with my beautiful eVic.
(For this review, I used the MT3 on my eVic at 5 volts. The MT3 has a 2.6Ohm coil in it.)
Overall: The MT3 is a nice tank to look at and it's even better when vaped. I like that it has a metal outer tubing and the sight window not only serves its purpose, but adds to its nice look. I received good vapor production and to help was its good airflow. Using a bottom coil changeable tank such as this makes it easy to refill and change its coil.
If you're interested in purchasing the MT3 or want to see more tanks like this, visit www.CrimsonVapor.com