The Vivi Nova, such a smexy tank for our devices, but looks can get you only so far. A good looking tank is only half the battle – the other half, performance. Each time I try out a new tank, I ask myself the same question – does it perform well? – Performing well depends on many things like airflow, ohm's, o-rings, tubing, capacity, and especially the infamous evil monster – wicking. This Vivi Nova Review is long over-due, but some things are better late than never I suppose. I have a small story for this one, so sit back and enjoy!
Though this review is late, I've already had my hands on the Vivi Nova STV quite a while back. I ran into a few problems and I know your first assumption would be with the wicking… wrong. The problem with the Nova was leaking and believe me, I was frustrated. The first attempt with the Vivi Nova was great, it wicked well, had a good airflow and the flavor was pretty decent in comparison to other tanks I've used. But just like with every tank it seems, there is always some type of hiccup. I thought I finally found the perfect tank, which is something I've been on the prowl for, for quite some time. I then noticed it had a slight leak, so I made sure everything was sealed correctly and tightened well. From the way it looked, everything seemed fine, so I let the tank sit over-night filled with e-liquid. The next morning, my PV was covered in e-liquid. I've tried many different things to possibly end this leaking issue, but nothing helped. I put so much time into correcting this because it was honestly a good vape. I finally gave up on the Vivi Nova until Andrew from Big Bang Ecigs let me give it another shot.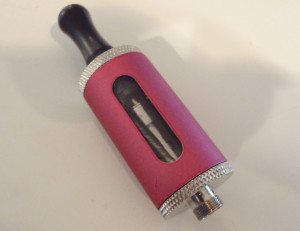 My second go at the STV unfortunately wasn't anything amazing. There was no leaking issue, it seemed to wick 'okay', but it just wasn't as satisfying as some of the newer tanks I've become used to. I waited so long to really give the STV a shot, that other tanks have hit the market – and I hate to use this review for a comparison, but it doesn't compare to the Bottom Coil Changeables. The STV is easy to use, looks great, and with a nicely matched coil, you can have a great vape filled with plumes of vapor. As time goes on and new products are introduced to the market, great becomes old news.
I wish I had more to say about this tank, but I'm just not feeling it. It works alright, but just isn't up to par with what I've experienced. One of the problems is, I'm giving you a new review of an old and outdated product.
If you're interested in other products from Big Bang Ecigs, visit www.BigBangEcigs.com