With each new product that hits the electronic cigarette market, there is a level of hype that follows it throughout the vaping community. And with the Protank, I believe the hype moved beyond your little beloved Vivi Nova's. The "Protank" name may sound very bold to many, but it fits well. See, this isn't just your typical tank, it's more than that. Not only is it following in the footsteps of the many other new and well working tanks by being a bottom coil changeable, but it also features something that none of the other tanks have… glass!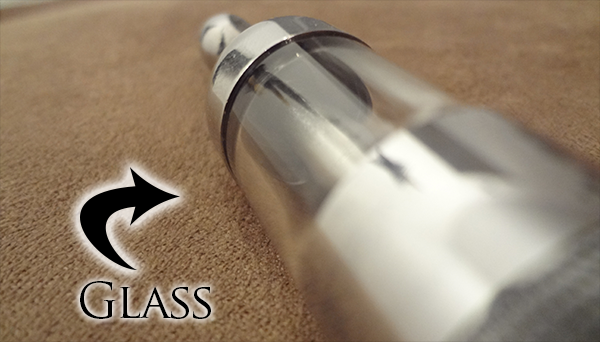 That's right, the Kanger Protank is a glass tank and surrounded by a metal chrome body. Not only does the tank look like an expensive piece of vaping art, but its beautiful looking parts serve there purpose as well. Starting from the top, the top cap and mouth piece are built onto the device and can not be removed. It's like having a smexy looking chrome drip tip at the top of your 'pro' tank. Below the top section is the glass tube (holds approximately 2.5ml) that not only looks great, but it also makes the tank for durable and resistant to acidic e-liquids – In addition, the glass makes for one clean and crisp vapes when paired with your favorite flavors. Just below and holding the bottom part of the glass sits a metal surrounding displaying the Kanger logo and below that in smaller text reads "Protank". At the bottom sits the bottom cap that holds the bottom coil that is changeable.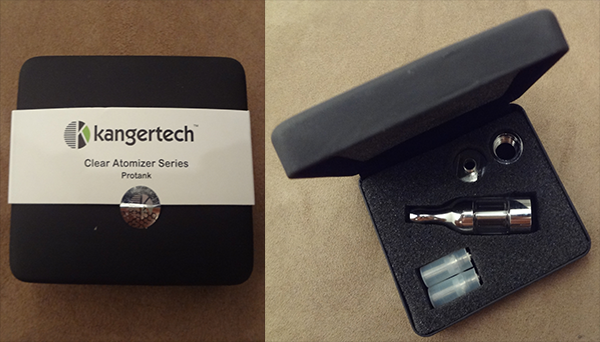 Now I can understand your many on-going issues with tanks in the past, but lately it's been getting better once these BCC tanks were introduced. Not only have the BCC's improved with wicking, but filling the tank and replacing the coil has moved beyond easy. Kanger's line of BCC's have steadily been improving from the start of its popular T3 clearomizer. After the T3 came the still new EVOD. The EVOD is a fantastic tank and its in my daily use of tanks, but once Crimson Vapor let me get my hands on the Protank, I was in the holy of holy of vape heaven.
The Protank features a high chrome finish and pyrex type glass.
The Protank comes with 2 2.4Ohm changeable coils. You can purchase additional coils of 1.8Ohm ~ 2.4Ohm's.
The Protank is a clear pryex glass, but now can be purchased in multiple colors. Pink, Clear, Grey, Blue, Brown, and Purple.
The Protank comes with the tank body itself, the bottom cap, 2 2.4Ohm coils and a cone to cover an eGo connector. (see picture below)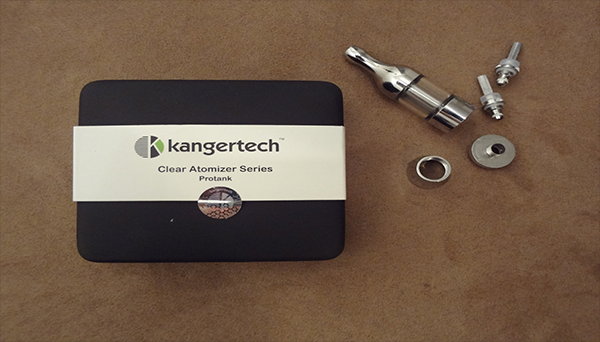 Just like with all my BCC's, I first removed the top wick from the coil. I probably shouldn't have removed the top wick so I can note to you all how well the tank works without doing so, but I was excited, wasn't thinking and just ready to try this hyped up tank. I screwed the coil on the bottom cap and then filled the tank with one of my delicious e-liquids and lastly screwed the bottom cap onto the tank. A very simple and quick process. Without hesitating, I took my first pull – and forgetting that I should prime it or let it sit for a minute.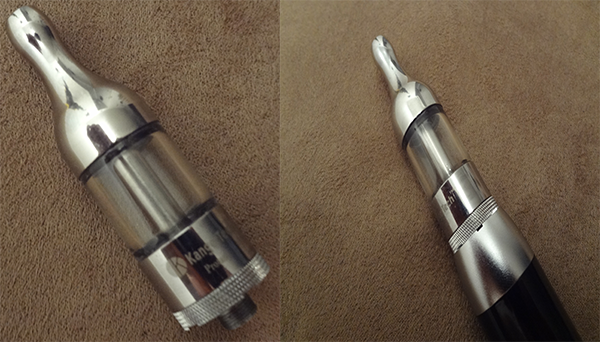 From the first pull, it's great airy flow and sizzling loud fresh brew of vape was absolutely fantastic right out of the gate. Sitting at 2.4Ohm's on the coil and a steady 5.0V, this glass tank was spewing out thick and warm clouds of vapor. I was in love and already, this tank has won me over, but did this match made in heaven last?
The love continued for a good two weeks – the same coil, same crisp flavor and same overall amazing vape. That is until I left my device on the table and was knocked off onto a hard tile floor. The eVic survived, the Protank… not so much. My new found love and I lost the connection when it died or in other words… it broke in half. I guess that solves our drop test, right? – Though my moments of bliss were cut shorter than I would have hoped, I immediately ordered another Protank from Crimson Vapor. This time, I shall be careful!
And onto the second go-around. This time, I didn't perform the wick removal. I screwed on the new coil, filled the tank with some delicious Abyss and then the bottom cap and we're off! – A little time to let it sit and soak onto the wick, then a few dry pulls to get things primed and ready and at last, my second 'first' pull. Spit! Spat! Sput! – Ewww! When running a 60/40 juice, removing the wick from the bottom coil on the Protank is like a night and day difference. Without that wick removed, I get dry and burnt like tastes. I got the second coil that comes with the Protank, removed the wick, put it back together and replaced the coils instantly.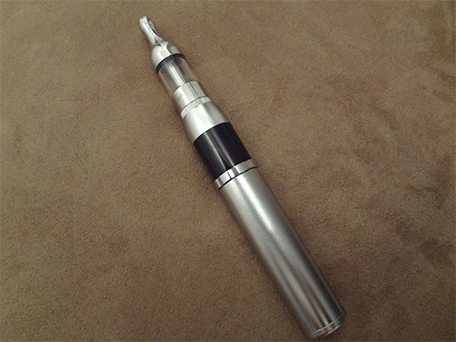 And here comes my third 'first' pull… Ahhh! Much better! Instant crisp and clean flavor, airy and producing delicious plumes of Abyss vapor. The Protank is flawless, no gurgle, but perfect sizzle. The experience of vape I get from it is beyond any other tank I've used. It's like vaping an EVOD, but with a much cleaner taste. This is a Pro Tank.
If i had to express any concern about the Protank, it would be that the draw is really airy and that you shouldn't have to remove a wick in it just to get your perfect vape. But, removing the wick also depends on what e-liquid mix you have in the tank – so I guess it would be tough for them to please both worlds, right? (or they could say, if thick juices buy this coil, if thin juices buy the other)
Overall: From its beautiful display of a case that the Protank comes in, to its sexy chrome body, this tank is flawlessly executed in the world of bottom coil changeables. If you're going to make a solid tank, this is how you do it. The Protank offers a clean taste, an amazingly beautiful look and to make it all worth it, it also performs like… a pro.
If you're interested in purchasing the Kanger Protank, visit www.CrimsonVapor.com