The host "Bish" from ElixirTV.com topped the charts tonight by giving what's to believe the most giveaway's in one show at ElixirTV.  Bish stayed on air for more than 4 hours doing 25 giveaway's, reviews, calls, chatting, vaping and pure out entertainment.  Not only was this a new record for giveaway's, but the show lasted more than 4 hours which I'm sure can go in the record books on ElixirTV for the longest show.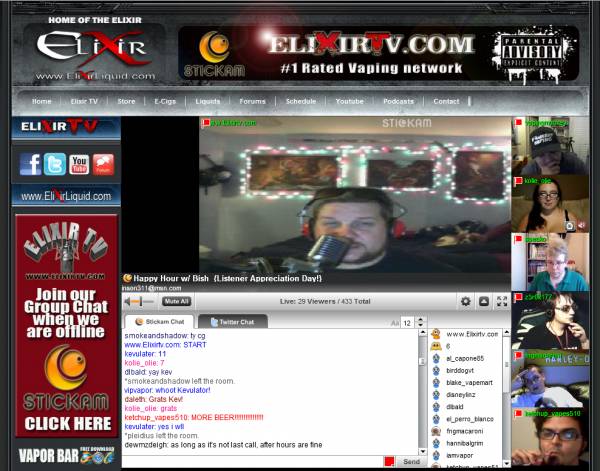 Tonight was my first night on Bish's show at ElixirTV and man was I amazed at how fun a vaping show could be.  I've been to many shows and I must say, this man kept me entertained for the longest.  I think his attitude, his humor and his reason brings a good vibe to the vaping community.  With me being my rude self that I am, I took out a moment out of Bish's time to ask him what he was trying to achieve here on his shows and he said "Usually, I try to find something other vaping shows don't do.  'What are you vaping', 'What device are you using' are status quo."

While trying to manage his show and keeping the vibe going, I managed to get enough interest from him to tell me more and he went on to say "I started doing shows, knowing nothing about vaping.  I mixed my previous radio skills while diving head first into the vaping community.  I know what I'm doing now, while still remaining humble.  You can only do so much with a vaping show, which is why tonight I exercised my options for vendors to give away stuff, and no one's done it.  I get a lot of love for some reason, but I give it back, even if it means my show sucks.  In the end, the result is grateful people." – As the night went on, Bish carried on with giving us a bit more history about himself and how he got into radio.
Overall, tonight was awesome and I've had a blast.  As of right now, the show is still going on throughout the morning in the after hours and you're all welcome to join!
If you would like to come check out Bish's happy hour show at ElixirTV.com, you can catch him on every Tuesday at midnight.