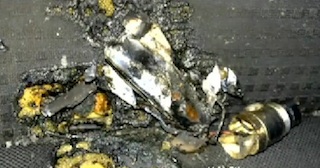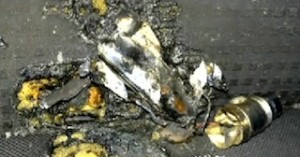 Unfortunately, a woman suffered second-degree burns after her electronic cigarette battery exploded in her car. The woman compared the resulting fire to a blowtorch.
Jennifer Ries and her husband, Xavier, of Corona, Calif. are suing the e-cigarette manufacturer VapCigs after its rechargeable battery caught fire. They were on their way to the Los Angeles International Airport for a volunteer trip to South America back in March, she told CBS News.
Jennifer was charging her VapCigs electronic cigarette battery, when her husband thought he smelled nail polish remover. "I looked around and I saw the battery dripping," Ries said.
"I went to unscrew it and the battery started shooting fire toward me and then exploded and shot the metal pieces onto my lap."

Her cotton dress caught fire said Ries, "I got severe second-degree burns on both the back of my upper thighs and my lower buttocks."
She described the battery's malfunction as "a blowtorch type of fire and then an explosion." Thankfully, her husband pulled the car over into the emergency lane and threw a cup of coffee on her to put the fire out.
Ries said she's still visiting doctors at UC Irvine Health Regional Burn Center.
Gregory Bentley is representing the Ries' in a lawsuit against Benham Zolgdahr, the retailer, and Corona-based VapCigs.
---
There could have been a few things that could have caused this, and though many don't expect something so unfortunate to happen, sadly it can. When using electronic cigarettes, inspect the battery more than once every single day. Remember, you are using batteries, and if they're malfunctioning from dents, drops or heat, it's very possible that they can explode.
For those of you who would like to learn more about battery safety, here's a couple things you can read over: