Now that electronic cigarettes are booming (and have been for a while now), the competition between e-cig companies is getting hot. These companies are spending great amounts to advertise their brand and get a piece of the action.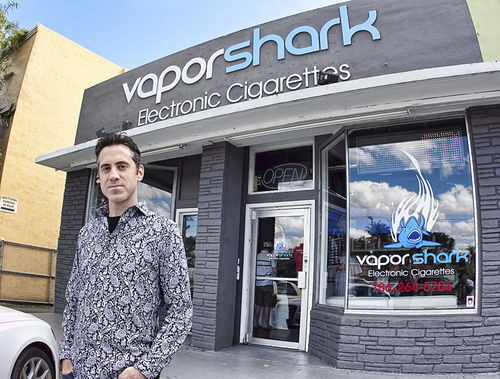 In recent news, Vapor Shark, an electronic cigarette company located in South Florida, isn't too pleased with the way another e-cigarette company's trade practices. Vapor Shark's parent company, the Hand Media, is suing a competitor, Vapor Hog, claiming deceptive and unfair trade practices and unfair competition.
Vapor Shark claims in a federal court that "Vapor Hog has siphoned, and continues to siphon, customers away from Vapor Shark by utilizing strikingly similar marks and a trade name that… infringes upon and dilutes the value of the VS marks and damages Vapor Shark." – Pointing out that "hog" in Vapor Hog "refers to a Hog-Snapper fish, not… a pig, boar, or other variety of swine" and alleges that the logos, color schemes, and store layouts are all copycatted.

"Vapor Hog has had the gall to leave fliers on cars parked at Vapor Shark and that Vapor Hog's minions go online to Yelp and other sites and falsely allege that Vapor Shark uses e-liquid from China." – says Vapor Shark.
Vapor Shark owner Brandon Leidel said, "We're the number-one brand in South Florida" — and that people shouldn't confuse his type of "high-performance" e-cigarette with cheap, skinny, disposable ones like Blu (owned by Big Tobacco company Lorillard) that are commonly found at convenience stores. "Those are a good way to start, but it doesn't satisfy people over time. There's not a lot of power in those mini batteries [and they] expose people to electronic cigarettes, and when they are looking to upgrade, we're ready for it here."
Leidel said the parties would be meeting this week to try to come to an agreement.
Sergio from Vapor Hog said Leidel "made a big mistake… my attorneys are going to have a field day with him" and that "he has no case" before thinking better of it and referring questions to his attorney.
---
What do you think about this situation? – Is Vapor Shark doing the right thing or do you think they just can't handle the competition?