If you've ever had trouble with e-liquid bottles from various companies, you're not alone. Some bottles are either too soft, too hard or its dripper tip is too big to fill your e-liquid tanks and cartomizers with ease. The Ucan is a wonder to the e-liquid industry that many just aren't aware of.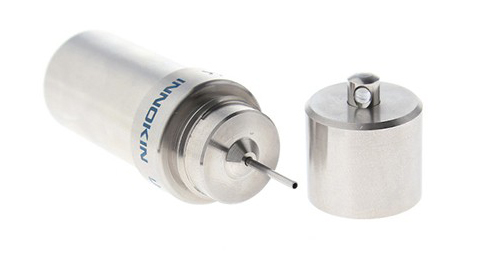 (I received the Innokin Ucan V2.0 from Texas Select Vapor)
[one_half last="no"]
About The Innokin Ucan:
The Innokin Ucan V2.0 is a stainless steel e-liquid bottle. The Ucan stores your e-liquid in its completely sealed stainless steel body guaranteeing no exposure to any light or outside elements. In addition to its stainless steel construction, holding even the most acidic liquid isn't a problem.[/one_half] [one_half last="yes"]How The Innokin Ucan Works:

The Ucan unscrews at the top revealing a modest 10ml reservoir for holding your e-liquid. The Ucan has a built in pump at the bottom that you simply press to dispense your e-liquid. Once you have the tank filled up, simply screw the top cap back on and you're ready to go.[/one_half]
Though I've known about the Innokin Ucan ever since its first version, I've been interested and wanted it. Sadly, I never did purchase it because I was skeptical on if the use of it would benefit me. I assumed it would be great for the first few times I use it, then the 'new' would wear off and I would discontinue use just like I've done with many of the other vaping gear that have filled my shelves and drawers.
After I received the Ucan, it's been the complete opposite of my assumption. I'm not going to try and play it out like this is the best thing since Wonder Bread, but it has become a handy piece to my vaping attire. It makes feeling tanks and cartomizers easy; avoiding that middle hole that has become the evil part of our e-liquid refills.
It isn't just the pointy tip that makes this such a great accessory, it's also because of its precise dispensing of e-liquid, its hard body design and its appealing look. Another great bonus to the Ucan, is the ability to hang it from your key chain or ball necklace – even though it might be a little too heavy for that use.
To me, the Ucan is a great accessory for any vaper. What makes this accessory a must have, comes from its outstandingly low price. At only $12.50, I feel that it's an absolute steal.
Want the Innokin Ucan V2.0? Just visit www.TexasSelectVapor.com