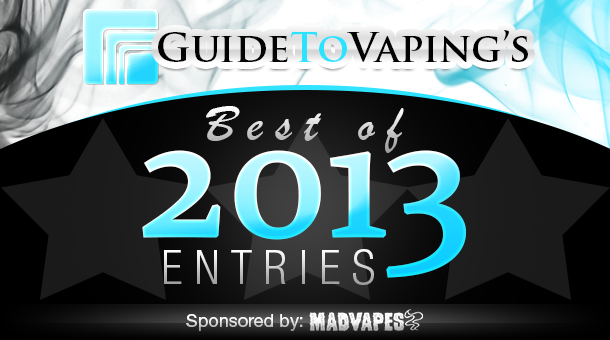 Best of 2013 entries are officially closed. Thanks to everyone who participated and we'll see you again December 1st to vote in the live polls!
Welcome to Guide To Vaping's Best of 2013 – Entries! First, I would like to thank you in advance for your participation. I would also like to thank MadVapes for sponsoring this years event. For 3 years we've been having "Best of" events and each year it has proven to be successful for electronic cigarette companies, blogs, forums and for the people behind them. Most of all, it has become a great way for vapers to learn what the best of the best is in the electronic cigarette world. It encourages companies to strive to be better by offering vapers the best products and adds a little competition for fun. It gives thanks and recognition to those who have worked so hard making the electronic cigarette industry what it is today.

Submit your entries for who and what you think the best is for each category. These results will be tallied and the top 5 entries will be placed in Guide To Vaping's Best of 2013 Polls for voting. Last year we received a lot of entries with only 1 or 2 fields filled out. Please try to fill each field.
(To help this process run a lot smoother, please be correct and basic with your entries. Example: Best Atomizer: Bauway 1.5ohm Bauway)
Entries Submission Ends: 10/31/2013
Below are this years categories.
Company: Overall Best of 2013
Best E-Liquid Company
Most Creative E-Liquid Flavor
Best One-Stop-Shop
Most Seen Vendor
Best Pricing: E-Liquid
Best Pricing: Batteries
Best Pricing: Accessories
Best Customer Service
Best Tank System: Rebuildables
Best Tank System: Clearomizers
Best Cartomizer
Best Atomizer
Best Mod / APV
Must Have Accessory
Best Vape Network
Best Vape Show
Most Entertaining Host
Best Forum
Best Blog
Best Reviewer
Best Organization
Vapings Biggest Supporter