The Nemesis is one of the most popular and well built, mid range priced mechanical mods on the market right now. Much like all popular devices that surface, the Nemesis has its clone version, and that's what will be reviewed today. This particular Nemesis Clone is manufactured by Rainbow Heaven. Though I'm fairly new to mechanical mods, I don't see much of a struggle to give you feedback, as it's possibly one of the most simplistic mods I've ever owned. Here's my review of the Nemesis Mechanical Mod Clone.
Appearance
The Nemesis Clone has the ability to hold an 18350, 18500, 18650 and an 18650 with a Kick. It has a full metal body design that is comprised of removable body parts to increase or decrease the body length for accepting different sized battery configurations. The Nemesis has a bottom magnetic button with an imprinted logo and "By Atmomixani" – which is a print and not an etching like the original Nemesis. On the side of the Nemesis, just above the bottom button portion of the device is the Nemesis logo, which again is printed and not etched. On the opposite side, there is "Nemesis" printed and the number 719 above it. I'm not sure if this number is particular to this device, but I'm leaning towards it.
Moving past the different screw-able body pieces (4 total removal-able and unscrew-able pieces), there is the top cap that can be twisted to allow more airflow. Pulling this ring cap off will expose 2 holes that allow air to the bottom of where your atomizer will sit to make power contact. At the top of the Nemesis, there is a arguable drip well and a 510 threading in the center. Below the 510 threading sits a connector screw for your atomizer to make power contact. This screw is adjustable so that what ever battery configuration you're using seats properly.
The Nemesis looks sleek, expensive, yet very simple. There isn't much to the devices appearance, since in reality its a few metal tubes placed together with a bottom button and head with 510 threading. I'm not going to lie, the 2 air holes at least give it some character.
Added, I really enjoy the Nemesis's small size with just an 18650 setup… it fits comfortably in the palm of my hand.
Dimensions:  109mm – Length * 22mm – Diameter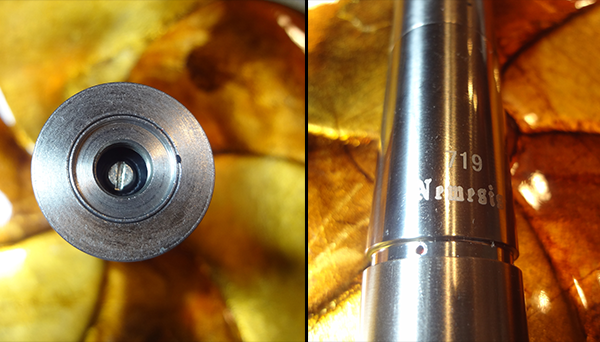 Features
With a mechanical mod, you're not going to get the features you would in an APV. There are no inner electronic workings and its basically off your battery alone. However, even the most simplistic of devices have a few features to gossip about.
The Nemesis's bottom button is magnetic, something mech mod creators have been really starting to catch onto as of last year (2013). In addition to its button, it also has a locking ring that allows you to screw up or down, depending on if the device is being used. If the device isn't in use, you would screw the locking ring down, which stops the button from being able to be pressed inward. Screwing the ring up will give the button room to move and allow you to give your battery contact.

The 2 air holes on the top ring is a nice feature to the Nemesis. It could help with pulling air in, but just remember that your atomizer will still need large enough holes to pull that air out. The top center post contact is a nice feature as well. As I've said, I haven't fooled with too many mechanical mods as of right now, and I'm not sure if they have a screw-able connector, but the ability to adjust that post really helps for choosing different battery configurations.
 Fully Recessed
510 Connection
Adjustable Airflow Ring
Silver Plated Contacts
Fully Adjustable & Lockable Bottom Power Button
Compatible With: 18650, 18350, 18500/18490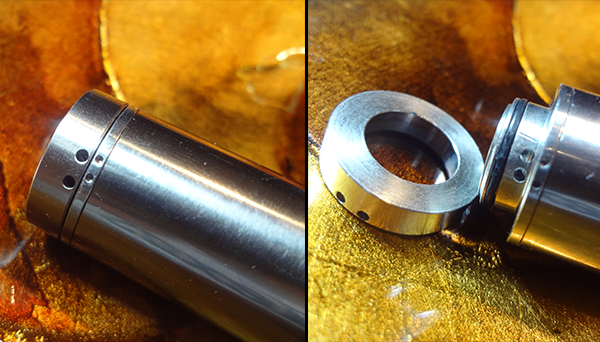 Performance
The Nemesis performs quite well. Though there is no variables to really talk about, I would like to touch base on its extra airflow holes. Allowing more air is a nice feature, but I didn't really notice much of a difference being that my Patriot atomizer is already well vented. Though the air holes weren't very beneficial to me, I'm sure they'll find use depending on the atomizer setup you have running. Everything make great contact, especially since you can adjust the center contact post. The threading on all the tubes were decent. There was no buttery feel and it definitely has its 'catching' moments, but isn't bad for the cost of the device.
The button works great when you press it in the center. However, if your pinky is off to the side, it will sometimes catch and won't allow you to press it in. I found myself off center on the button quite a few times, but once I began to warm up to the button, I found myself being able to easily press and make contact with the button each time. This is my first bottom button device, so I'm definitely not used to this firing setup. I did quickly start to understand just why everyone feels so comfortable with it though.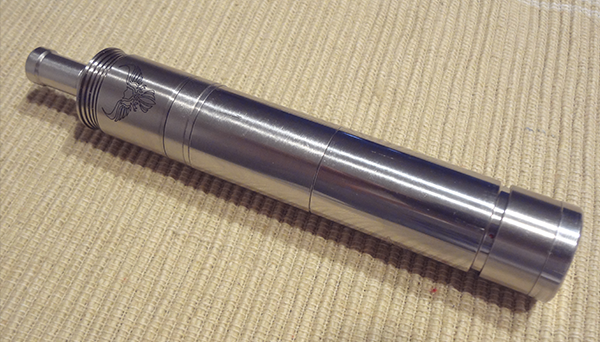 Conclusion
Overall, the Nemesis has a very simple, yet an expensive look in the world of mechanical mods. I said that reviewing a mechanical mod wouldn't be a struggle, but because of its simplicity with only a metal tube device running off of a battery, there just isn't a whole lot to say about mechanical mods, other than the few small features they have and the appearance they give off. The Nemesis Mod works great, I had no problems. The threading was decent, the airflow ring and the device itself are very versatile and the bottom magnetic button was a new and good overall experience.
Want to know where to get it? Visit SureVapes at www.SureVapes.com