In 2013 rebuildables completely took off. These atomizers brought life back into many vapers experience and has offered some of the best vapor and flavor imaginable. Though they take a little work, the results are well worth it. This Patriot I'll be reviewing today is the 3rd rebuildable dripping atomizer that I've owned, and I'm nothing short of happy with its quality, durability, looks and my own created performance.
Appearance
Like many other popular rebuildable dripping atomizers, the Patriot that is constructed from 303 stainless steel, has the diameter (22mm) of your average mechanical mod, and I must say… it fits and looks well on top of the Nemesis. Starting from the top, the Patriot has an inlet for a removable 510 drip tip. Just below that is the atomizer housing, which sports etched lines following around the shell. The lines definitely gives this rebuildable some character, offering a unique look you won't see from other RDA's. Those etched lines are actually heat sink fins that is said to remove up to 50% of the heat. Useful and appealing, indeed.
Just below that and centering to the middle of the housing are 2 air holes, one on opposite sides to provide optimal airflow. In between the air holes is the printed Patriot logo. Towards the bottom is the base, which only exposes about 1/16 of an inch. Pulling off the housing, you'll find the base has 2 O'rings to prevent any leaking and a rather large drip well that is perfect for cotton setups. There are 3 posts, the middle being your power and the 2 outer posts as your ground, giving you the ability to run dual coils. Each post has phillips screws, as well as pretty large post holes for that larger wire you may run. The whole area is pretty big, so it makes it easy to tuck in your cotton setup or allows enough room for other wick possibilities. In addition, the space is large enough where your coil isn't close to your atomizer base, which again makes things very easy.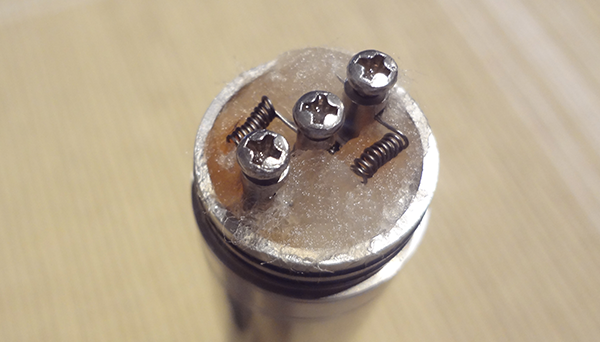 Features
The Patriot rebuildable dripping atomizer features a 3 post design with phillips head screws. It has a rather large drip well and the shell of the atomizer stands about an inch tall so that you can house pretty much any RDA setup. Though I've never really given it much thought until now, the heat sink fins that gives this atomizer its appealing look seems to actually keep the heat down as it's advertised.

Brushed finish
Made with precision machined components from the highest grade 303 stainless steel ensure exact fits for consistent, even current draw to coils
High volume tank equals higher air flow for larger vapor production; more room for wick equals more juice for more hits
Precisely sized vapor ports allow laminar flow for a clean steady pull with no turbulence in the vape stream
Zero resistance press fit terminal post keeps the power constant on every hit.
Unique dynamic quad ring seal keeps any extra juice inside the tank
Through hole terminal design guarantees positive multi-point electrical contact to deliver maximum current to the coils
Dual O-ring design adds mechanical stability to tank and drip tip while keeping the air stream on the coils where you want it to maximize the vape.
Unique heat sink fin design functionally removes up to 50% more heat during chain vapes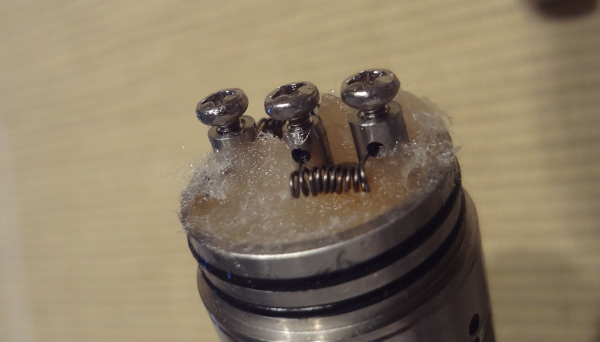 Performance
Though the performance mainly relies on your own build, it's always nice to have an atomizer that seats properly, makes a good connection and has enough airflow. With the Patriot, I've received all of the above. I'm mainly impressed with the airflow on the Patriot. With many RDA's, you have to drill out the air hole(s) to allow for the best vape. However, with the Patriot everything was made to perfection. There are 2 air holes that are large enough to where you won't have to drill on your atomizer. It delivers perfect airflow, and much better than on any other RDA I've used thus far.