If you haven't heard about Zample Box, it's not because you've been living under a rock. The reason you haven't heard about them is because their company is pretty new to the industry and the type of service they offer is new as well. They're not your typical e-liquid vendor and they don't create e-liquid either. Zample Box came up with one of the most genius ideas that let you try multiple flavors from various e-liquid vendors all at one place. To top it off, it's a monthly subscription service, so there is no hassle involved to receive your next months shipment.
I haven't yet tried the bottles of e-liquid that was sent to me in my ZampleBox package, but those will be reviewed here at a later time. For this post, I wanted to let you know about ZampleBox, my first impressions of the idea and website, as well as what you can expect in your package, the price and my thoughts.
First Impressions
My first impressions of Zample was one filled with questions. Before Zample ever contacted me, I heard about them through our Best of 2013 event. Being interested by the name, I gave the site a visit and instantly understood that it was a monthly e-liquid subscription service. Browsing around the website I noticed a FAQ page, which was very helpful in answering the initial questions I have had.
The idea of the monthly subscription service is great, but hopefully the same flavors aren't included in the package with the months following. This type of service could be best for those of you who are still on the prowl for different flavors or you up and coming reviewers wanting more content.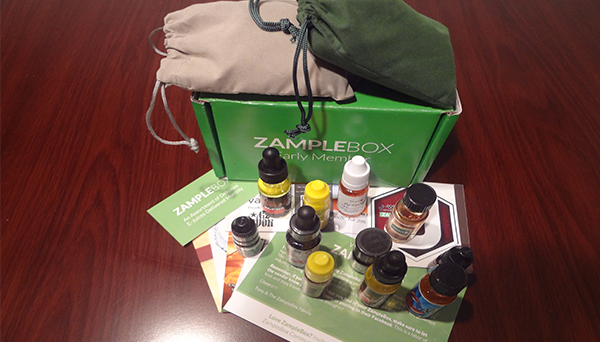 What You Can Expect
Depending on what ZampleBox plan you decide to go with, you'll receive bottles of e-liquid from multiple vendors, including ZampleBox provided discount codes to a few companies. If you choose the standard package, you'll receive 5x bottles of e-liquid that equals to 50ml's. For the Gold plan, you'll receive 10x bottles of e-liquid that equals to 100ml's.
In my Gold December 2013 ZampleBox package, I received the following: Thunderhead Vapor – Vanilla Shake, Johnson Creek – Makana, Hurricane Vapor – Cuban Coffee, Alpha Vape – Hoops, Golden Drops – DBG, 503 E-Liquid – Pomegranate, RocketFuel Vapes – Dolly's Blue Ribbon, G2 Vapor – Blue Pop Shock, Alpha Vape -Manchu, Golden Drops – Tasty Churros, Clever Vape – HazelNut

I heard there was a way to request certain flavor types, such as fruit, candy etc… I on the other hand didn't have that option if it was available, since this package was specifically for a review. If there is such an option, props to ZampleBox.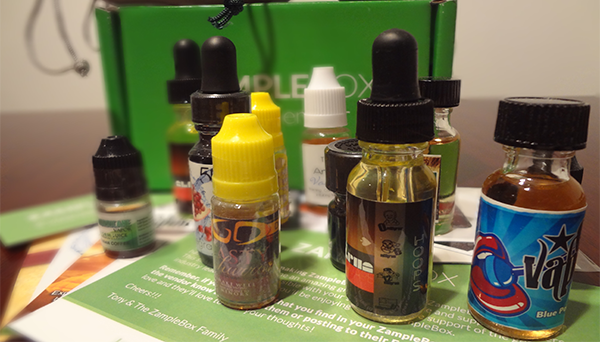 Pricing
ZampleBox has 2 plans to choose from, which are the Standard and Gold plans mentioned above. The Standard plan costs $24.99 and the Gold plan costs $44.99. It's really not a bad deal, but remember you're buying something you don't know if you will like or not, and just for sampling. Being that the price is close to a normal price and it's just for sampling, I'm not completely convinced this is a 'good' deal.
If they offered only 5ml bottles throughout the whole package where you could sample more flavors, it would definitely make me feel a bit more comfortable with this subscription service.
My Likes
I like that they've finally came out with a service where people can explore flavors from various e-liquid companies. By Zample offering this service, it will keep people interested in trying new flavors and encourages them to continue to change up flavors, which results in a better and lengthier vaping experience. I like that the ZampleBox packaging looks very professional and is packed very neatly and not with your run of the mill bubble wrap.
My Dislikes
My biggest dislike about the ZampleBox service is that they send you mostly big bottles of one flavor, when all you're paying for is to sample multiple flavors. To sample a flavor, I don't need 10ml's of it – just a note. For only getting 10 bottles that I'm only using to sample, I don't like that idea of paying close to premium prices. I understand that Zample is trying to let you sample flavors you may have not heard of before, but the partners list is lacking the more premium brands that many of us have grown to love. Just because we know about them though, doesn't mean everyone else does.
Conclusion
Overall, the ZampleBox idea is outstanding and I can see it encouraging many vapers to not ever let their experience settle for just one thing, instead it rejuvenates their experience and gives them that like new vape feeling we all love to revisit. I'm not too fond of the price, but if the bottles were smaller sizes where I could sample more, the price wouldn't bother me in the least bit. I think ZampleBox can be a winner for many vapers, especially once the company grows and starts offering a better set of options for sampling e-liquids from various premium vendors.
Interested in ZampleBox? You can visit them here: www.ZampleBox.com