The Kamry KTS Starter Kit was my first ever mechanical mod, and as a starter mechanical device, I've been nothing short of happy. Though it is a very cheap device, Kamry did an outstanding job on a rather simple device. Today I'll be reviewing the Kamry KTS from Alternate Cig.
Appearance
The KTS Starter Kit comes in a black zipper case that has a carbon fiber look. Opening the case, there is the Kamry KTS mechanical mod, 2x 18650 Kamry logo printed batteries (ICR 2000mAh), a wall mount charger, a top coil clearomizer and 2x extra replacement coils.
For first impressions, the KTS looks pretty awesome. Starting from the top, the head – which holds the 510 connector is gold-plated. Below that is a silver tube piece, in the middle is another gold tube piece that acts as the extension, and below it is the main tube portion of the device that holds the side mounted button, 3 ventilation holes, the printed KTS logo and the gold bottom cap. This is a telescopic device, so these pieces can be screwed up or down to hold different length batteries.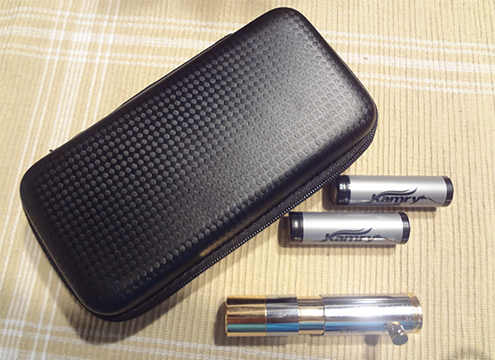 Features
Surrounding the 510 connector is a deep drip well. At the top of the well are slits cut into the device to allow airflow when using tanks that fit snug again the device. As a note, the 510 connector will not fit any 510 eGo type connectors. As you already know, the KTS is a mechanical device, so the features for this device are very limited being that it doesn't use any electrical internals. However, it does sport features like the side mounted button, which is common for mechanical mods. The side mount button also has a locking switch, which removes any chance of the device firing while it's stored away in your pocket or laying on its side.

Another nice feature is the 3 ventilation holes just above the button, which is a bonus in safety for this device. The main feature for this device is that it's telescopic, and it looks great when in its 18650 length from the silver and gold tubes that stretch the device.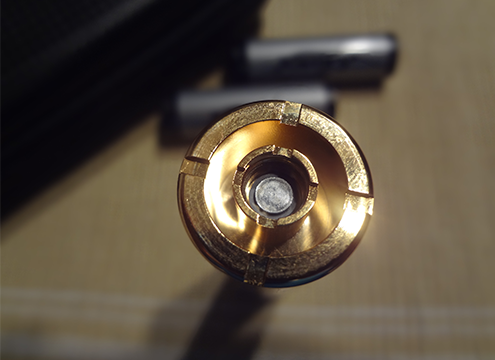 Performance
For my first mechanical mod (late getting this review out), it was a bit cheap. However, the device worked flawlessly despite it being on the cheaper side. It's threading was a bit smooth, but it's all very wobbly because of the play in the threads. The 510 connector seemed to perform nicely, and it seemed to give a good connection on each rebuilding atomizer I used (Nimbus & Patriot). The button was a big concern of mine, yet it actually started to feel comfortable to use with my pinky. Overall, I'm pleased with the way this device performed.