Joyetech is known throughout the industry for its tried and true eGo electronic cigarette, its atomizers and some very popular advanced personal vaporizers. But, what people didn't know about Joyetech is that they also manufactures and sells e-liquid. Before judging the book by its cover, I suggest you give Joyetech the benefit of the doubt. Today I'll be using a Tesla that sits at 12.5 watts paired with an Aspire CE5. I'll be giving my thoughts on some e-liquid – this is the Joyetech Strawberry E-Liquid Review.
Quality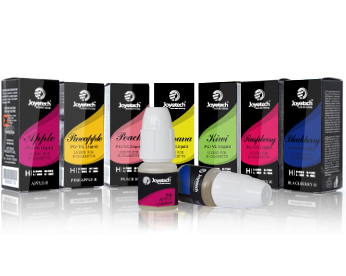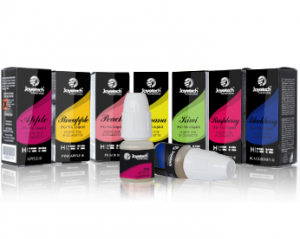 For starters, it's Joyetech e-liquid, so of course it's China made. Though many people, myself included, have certain feelings about China e-liquid. However, this is one flavor that may be a surprise to you. It doesn't have that normal perfume type taste to it, but closer to an American made e-liquid. In fact, being that I've had the opportunity to try many e-liquid's from different companies around the world, and this China made e-liquid by Joyetech can compete and beat many of them that I've tried – and this is real talk. In addition, the texture of this e-liquid is very smooth, nothing gritty or away from normal.

To touch base on these bottles, it's the first I've seen in the industry. The bottle looks very unique with its large top cap that was designed with child safety in mind. I wouldn't mind if other e-liquid manufacturers picked up on this style of bottle to be frank.
Flavor
The Strawberry flavor is good, and actually one of the better strawberry flavors I've tasted. It isn't strong or too overpowering, nor is it weak. I would say that the flavor strength is somewhere in the middle, just more towards the weaker side. If any concern can be expressed from this flavor, it's going to be that some people who require a strong flavor may find the taste a bit bland. The actual taste I'm recieving sits in the middle of a candy strawberry flavor and an actual strawberry.
As a note, between my Wife and I, we've run through this bottle. For such a small price, if you're into the strawberry flavor, this might be the one China flavor that could make its way into your vape line-up.
Throat Hit
Unfortunately, if you're looking for throat hit, chances are you won't find it in this bottle. Though my personal bottle is at 18mg nicotine strength, the e-liquid is too smooth to offer any type of throat hit. Now, I know in the majority of my e-liquid reviews I tell you that I prefer a smoother vape. However, this is a bit too smooth for my personal preference. Though I don't enjoy a rough throat hit, I do however like to know that it's present.
Vapor Production
I've looked on the Joyetech website and no where can I find the PG/VG ratio. That said, I'll have to go on the vapor product I'm receiving alone, instead of offering an idea with the percentages. It really feels like a 50/50 mix or maybe 60%PG/40%VG mix. I get a decent amount of vapor, at least more than I usually receive when vaping a 70/30 mix a lot of companies offer.