You may have heard me rave about the EVOD in the past, but since I have the privilege to try so many new products all the time, my opinion of a product may stay the same if focusing on that product alone. However, comparing it to the new products that continuously emerge may deem a different thought. In other words, the original EVOD was the best clearomizer I've used at the time of my review, but once another clearomizer landed on my lap, that EVOD quickly became the second best clearomizer I've used. Get it? – I know, I confuse people.
Anyhow, today I'll be reviewing the new and improved upon version of the Kanger EVOD… this is the Kanger EVOD 2 BDC Clearomizer Review.
Note: I received the Kanger EVOD 2 from VaporAuthority.com
Appearance
Unfortunately, the EVOD 2 looks almost exactly like the original version. Don't mistaken that for a bad thing, because I honestly enjoy the simple, rubberized coating and small window that the EVOD 2 holds. However, there is at least one change in appearance compared to the previous version. Instead of the EVOD 2 sporting a mouthpiece built as one piece on the clearomizer, this version offers a removable drip tip. Indeed, this one and only appearance difference between the first and second version isn't all that exciting, but the real difference between the two goes beyond looks and has been added into its features and performance.

Features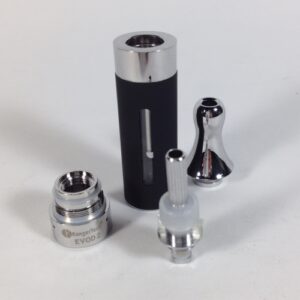 Though the EVOD 2 lacks much of an exciting appearance, it however sports some quite interesting features that follow along the same lines as many of the new clearomizers making way into the market. That's right, the EVOD 2 continues to stay a bottom coil clearomizer, but its new dual coil feature is why this device was reintroduced.
Although I would love to tell you that this second version has adjustable airflow along with other features, I simply can not. The EVOD 2, as well performing as it is, it just doesn't have the features you're seeing with new and more high-end clearomizers that's entering the market. On the hand, don't leave this one out, because the EVOD 2 is definitely a contender for the simple fact that it's a dual coil clearomizer.
Here are some of the other small features the EVOD 2 has:
Thread Type: 510 / eGo
Liquid Capacity: 1.6 ml
Coil Type: Replaceable Bottom-Dual-Coil
Included Coil: 1.5 ohms
Performance
The performance is something to focus on when debating if this clearomizer can become apart of your vape line-up. Being that it has the two coils powering this small tank, the hit is fairly strong. I'm boiling out vapor, but I would feel more comfortable with the EVOD 2 if the airflow was a bit tighter. Anyhow, for what it is and how it performs, the EVOD 2 is an outstanding clearomizer none the less.