Texas Select Vapor is an outstanding manufacturer of e-liquid. If you're a follower of GuideToVaping.com, you've probably heard me rave about TSV e-liquids before, such as Pearalyzing Peach, which continues to be my most vaped e-liquid. I guess it's the unique and precise flavors or the amazing quality of e-liquid that continues to draw me to the company – through the many possible reasons, I literally vape it every single day.
Today I'll be adding another favorite to my line-up. I'm using an iTaste MVP 2 at 4.9 volts, paired with an EVOD 2. On this setup I'll be reviewing Birthday Cake from Texas Select Vapor.
Quality
Much like the rest of the bottle e-liquid that is manufactured by Texas Select Vapor, Birthday Cake E-Liquid has a quality in taste and feeling, and this goes for the flavor as well. When I vape flavors from TSV, I'm sure what I purchased has been made in a clean environment and assured by Texas Select Vapor being inspected and approved by AEMSA.
Flavor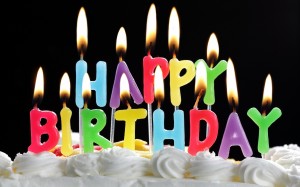 This Birthday Cake E-Liquid was actually sent to me in spite of them knowing I'm not a big fan of dessert flavors. Confidence much? – Anyhow, when I first received this flavor, I immediately tried it even though I was told it's best when steeped. I however didn't give it time to steep and I didn't enjoy the flavor. That said, I gave it a few days, loaded it in the EVOD 2 and magically it tastes great!

I'm not sure that it tastes exactly like a birthday cake, but there is definitely a huge resemblance. I actually just threw my daughter a birthday party and we have cake left over, so this was the perfect opportunity to compare them. If you take a vape, then eat a piece of birthday cake, you'll see that it's about as close as you can get in a vapor form. I get a deep vanilla taste on the inhale and then a more spread out vanilla icing taste on the exhale. It's like you get the cake flavor and then the icing flavor. The flavor is very unique in the way that it vapes, and definitely a home run in my daily line-up.
Throat Hit
To my surprise this flavor has a bit more throat hit than some of the flavors I've tried from Texas Select Vapor. In fact, I would say that it has a bit more than Pearalyzing Peach, which again is my favorite. I wouldn't think that I would want a throat hit with a flavor like this, but undoubtedly it fits perfect in my personal liking. Expect the throat hit to be somewhere in the mid range; not harsh, but very noticeable.
Vapor Production
Like all other e-liquids from Texas Select Vapor, Birthday Cake is a 70/30 mix. I receive about the same amount of vapor throughout all of them, which is plentiful. The vapor production isn't huge, but it certainly produces decent clouds.