Today I will be reviewing the Plume Veil Rebuildable Dripping Atomizer (RDA) Clone from AngelCigs.
Appearance
Let me start off by saying that I was excited to get my hands on this atty. The Plume Veil looks very sleek and unique. The first thing I notice is the plethora of airflow sources. It has a very large and adjustable slit on both sides for getting air straight on the coils. Also there are 3 holes on either side to funnel air through the negative posts. One unique thing about this atty is the adjustable delrin insert that allows airflow from the top. All you have to do is spin the drip tip and the delrin insulator rises up from about 1/8th of an inch and opens up the top air holes. Taking the cap off of this rda you see that the entire inside is gold-plated and that the negative posts are milled from the deck. No loose posts here. There are 3 posts, and the positive post has 2 screw holes so you can accommodate larger gauge coils. It has 2 O-rings that hold the cap snugly on the deck. The bottom of the deck is gold-plated as well and the connector has an adjustable pin for perfect contact with your mod.

Features
The Plume Veil is constructed with a stainless steel body and is 22mm diameter to fit seamlessly on most 18650 mods. The posts allow for dual and single coil builds, also building quad coils on it should be a breeze. Unique airflow brings air from 3 places and allows for single and dual coil setups. Slots in front of coils, holes through negative posts & holes in top cap for vacuum effect. There will be no drilling out hole on this guy as you get plenty of airflow.  It has a gold plated base, negative posts and 510 contact with adjustable pin. The negative posts are milled from the deck. The positive post is stainless steel and has 2 holes which allow for larger gauge wire. And all the posts have phillips head screws. The deck has plenty of space for your wick or cotton. This version has a copper top cap and a stainless steel wide bore drip tip, both with matching logos.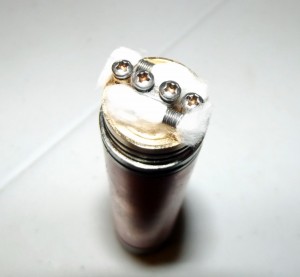 Performance
Now we get to the good part. How does this atomizer perform? In my opinion, the Plume Veil is a well oiled vaping machine. The gold-plated deck allows for great conductivity, which in turn means the coils heat up quickly. I built a dual micro coil setup using 28 gauge round kanthal at .7 Ω ohms. I got a nice warm, not hot, vape and plenty of vapor production. It has great flavor and more than adequate airflow, which, more is better in my opinion. And the delrin insulator keeps the drip tip nice and cool no matter how many puffs you take. The 510 connector fits snugly and allows for it to mount flush with the copper Stingray clone that I tested it with. The only draw back about this atomizer, and it's not a deal breaker, is the juice well. I would have liked to have seen it just a bit deeper, as I needed to rejuice the cotton after about 4 to 5 hits. And anything more than about 8 drops and it will leak a little from the bottom airflow holes. All in all, I am very happy with this atomizer and will be using it on a regular basis.