Today I will be reviewing the Taifun GT Rebuildable Tank Atomizer (RTA) Clone from Hawk Vape.
Appearance
The Taifun GT is very utilitarian in appearance. The drip tip leaves something to be desired as it looks cheaply made and is very narrow bored. It is stainless steel in construction with a polycarbonate tank. The only markings on this unit are on the inside deck cover, which shows Taifun GT and the serial number. This is a large tank and with the drip tip it is 1mm taller than an Aspire Nautilus and is the same diameter. It has a good-sized deck to build coils on almost effortlessly.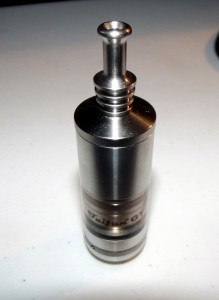 Features
The Taifun GT is made with a stainless steel construction with a polycarbonate take. The 510 threaded connection fits smoothly onto every mod that I have put it on. And on the connection it features an adjustable screw for connection with your mod. It has a huge 5ml capacity for all day vaping. The deck is large and the chamber can be lowered to make coil building easy. The dimensions of the Taifun GT are 23mm x 59mm. Also included in the box are a drip tip, silica, wire, 7 replacement O-rings and an extra air hole pin.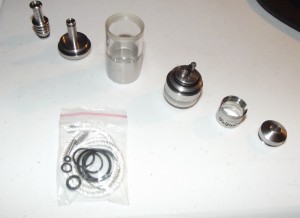 Performance
I was not to happy with the airflow on the Taifun GT until I pulled the airflow tube and rubber bushing out of it. Now it has decent airflow and the vapor production has increased, though it may leak a few drops it left laying on its side now. After trying a few different flavors at different PG/VG levels I can say that the flavor is spot on.. I tried a few different coil builds on the Taifun GT, and the best performing one was a micro coil at 1.2 Ohms with a cotton wick. I like that it is very easy to build a coil on the deck and there is plenty of room on the deck.  And I haven't had a dry hit yet and no gurgling whatsoever. I do have to say that all the threading on it are nice and smooth and I didn't have any issues pulling it apart. This would be a good upgrade for someone who has been using a clearomizer and wanting to up their game.