10. Pagasus Mechanical Mod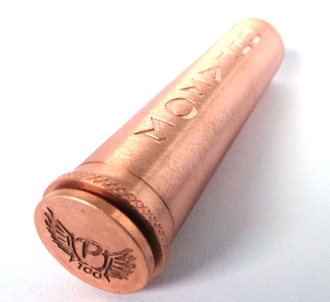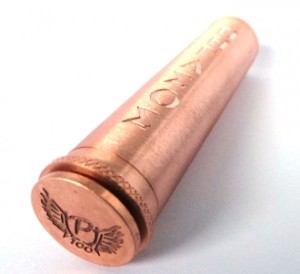 Based in Southern California, Olympus Creations LLC was founded by two long-time friends that set out to leave a footprint in the local vaping community through fine craftsmanship of U.S. manufactured products.  With the two friends teaming, they've delivered one of the most simple, yet beautifully crafted mods on the market.  Olympus Creations is highly known for its drip tips, top caps, Changeling mechanical mod, and its Greek inspired flagship, the Pagasus Mechanical Mod.

The Pagasus is a mechanical mod that houses an 18650 battery.  It is 22mm in diameter, and all pieces of the mod are made of solid 99.9% copper, except the top insulator.  The mod is manufactured from solid copper billet in the USA, allowing for thick tube walls for robust construction.  Features of the Pagasus include vent holes that are hidden inside of the switch enclosure to prevent from interfering with aesthetics, the switch has a reverse threading locking ring, the top pin is floating and has an adjustable screw to prevent battery rattle, the button is magnetic, and the device has very large, deep and bold 12-pass precision laser engravings.
As many of you may be aware of, when you're in the market for an authentic mod, it'll come with quite the hefty price, and if you're in the market for a U.S. made mod, you'll pay even more. To make this mod fit in our inexpensive list, we've found the cloned version and have linked to it below.
Pagasus Mechanical Mod: GET IT HERE
Pagasus Mechanical Mod: MORE COLOR OPTIONS