There are more and more smokers each day trying electronic cigarettes rather than the government-approved nicotine replacement products.  Though aids such as nicotine patches and gums have been around for some time, they've turned into a molasses pace, and these e-cigarettes are the cause.
Vaping has transformed the market of smoking cessation products, and the $2.4 billion in global sales of those government-approved aids are feeling the hit and have began to suffer.  Because of this, pharmaceutical companies are scrambling, becoming frantic, and have been spreading propaganda ever since the e-cigarette industry was birthed.  Ultimately, it comes down to money with these companies, not the success of others or their lives, which has led the e-cigarette industry in a constant battle to prove itself.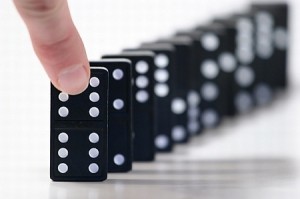 Although e-cigarette makers here in the United States are restricted from explicitly marketing the products as smoking cessation devices, many of them have found ways to appeal legally to smokers who are looking to quit.  The vaping phenomenon has built a name for itself amongst consumers as each one switches to vaping.  It becomes some-what of a domino effect, where one relative or friend tells another of their success with vaping.  This has turned a still rather new industry into a quickly growing health breakthrough, globally.

Technically, electronic cigarettes have been around since 2007, but didn't become widespread until the last few years.  However, it has already made inroads into traditional quitting therapies.
According to a University College London survey in January of 1,800 people, including 450 smokers, said that about a third of British smokers try to quit were using e-cigs.  The survey also claimed that e-cigs are used by almost twice as many people as government-approved nicotine gums, lozenges and patches.  These findings are much different from 2011, where only about 5% of people were using e-cigs and more than 30% used other over-the-counter products.
Unfortunately, similar data has not yet been publicly available for the United States.
According to data from commercial researcher Euromonitor, worldwide sales of all nicotine replacement therapies grew just 1.2%, to almost $2.4 billion last year.  And, sales in the United States were at $900 million, then grew to 0.2%, but Euromonitor expects that number to drop this year by that same amount.
As most of us are aware of, Big Tobacco companies, such as Altria, Lorillard and Reynolds American, have all made their entrance into the vaping market once they seen its quick growth.  This growth for the market in the United States for vaping devices has went up by 40%-50% from $2.5 billion to a whopping $3 billion, says Euromonitor.  However, the global market is said to be worth upwards of $5 billion.
Though I can feed you with statistics, surveys and statements all day, we know what these products have done for us.  What they've done, no stick of gum, or other product for that matter, can ever recreate.