An Oakland, CA. based Center for Environmental Health has announced that it has filed lawsuits against 19 e-cig companies for allegedly selling their products (e-liquid & e-cigs) without the state-mandated warning labels.
As a consumer protection measure, the state's proposition 65 requires warning labels to be placed on any product that contains harmful chemicals.
What's interesting about this is that California happens to have the largest amount of brick and mortar vape shops, yet it's beginning to look like California hates e-cigarettes, with a passion.  In fact, the California Department of Public Health issued a public health warning in January about "the hazards of e-cigs".
Get this… in the report, CDPH (California Department of Public Health) noted that e-cigs contain at least 10 chemicals that are listed as toxic by the state of California.
It's beginning to sound like CDPH has let that medical marijuana go to their head, because claiming 10 chemicals in e-liquid is pure out fucking retarded.  I apologize for my profanity, stupid people piss me off.
Additionally, CDPH released an "E-Cig Brochure", which was ultimately made to bash electronic cigarettes and their use.  The brochure starts off with large print saying "Protect your family from e-cigarettes", and to the side under a multi-nationality fake family of 4, is the words "How do I protect my family and friends", as if they're portraying e-cigs as this brutal murderer.  And, then on the lower portion of the brochure, they begin printing pure lies.  See for yourself.
Sorry for the profanity on the image, liars piss me off too.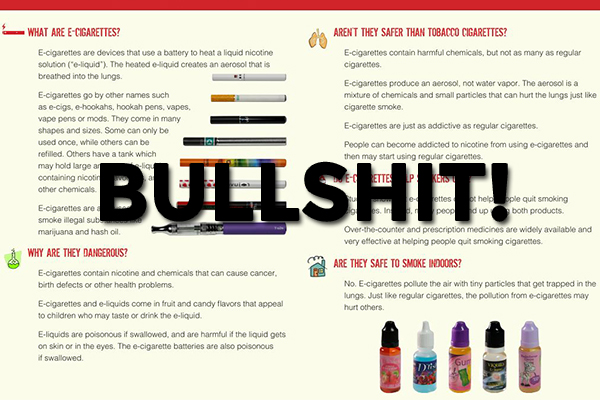 What's even crazier, is that each and every negative claim they've printed against e-cigs, has already been studied and proven otherwise.
Anyhow, according to the Center of Enviromental Health, the nicotine that is in e-cigs poses reproductive health risks and should have warning labels.
I agree, e-liquid should contain warning labels, and any e-liquid manufacturer should already know to include warning labels, not just because of state laws, but because of the scrutiny our industry already faces.  It's just silly business practices and no respect for the customer to think otherwise.
The Center of Enviromental Health alleges that the companies have violated the state law by selling their products without the "proper warning label," and included that some companies "didn't carry any health warning labels at all".
CEH included that the lawsuits aim to make e-cig makers "conform to legal requirements for labeling and create mandatory product safety standards," as well as to "stop marketing practices that target children and teens."
Here's a list of the companies being sued:
Ballistic Vape Inc.
Steam Distribution
Beard Vape Co
Bodyrock Products
The Daily Vapes
Exquisite E Liquid
Five Pawns
Joyetech/Shenzhen Joyetech
Limitless Trading Co
Nicopure Labs
Tenacious 7 Vapor
Throttle Vapor
USVC, Inc.
The Vape Kitchen
Vaporall
PHD Marketing
S & E Distributor
Smoke Tokes
Vapor Exotica