The Eleaf iStick Series has become very fruitful within the vaping marketplace.  The mod gained popularity quick as it introduced a size vapers are comfortable with and higher wattages that are affordable for the everyday consumer.  What makes Eleaf a genius manufacturer is that they've hit every spectrum of consumer with their iStick Series; the iStick Mini for those looking for a device that is super small, yet still able to deliver 10 watts of power, the iStick 20W that is a bit larger yet offers and increase in wattage, the iStick 30W that reaches an above average 30 watts of power, and the latest being the iStick 50W that offers a large 50 watts of power and quite the hefty battery to accommodate it… all while still being in a super compact and comfortable housing.  Today, we're going to give you our likes and dislikes in this Eleaf iStick 50W Mod Review.
Appearance
The top of the device is surrounded by a chrome plated metal, while the body seems to be a thin aluminum covered in a black painted finish.  The face of the device has a half inch strip of dark tinted plastic that runs from the top to the body of the device.  At the top of this plastic is an up arrow and a down arrow plated in chrome, and just below hidden away is an OLED screen.  Just to the right and on the side of the device is the rectangle chrome plated fire button that is rounded to curve with the device's body.  The back of the iStick 50W has a micro-USB port towards the top, the Eleaf logo just below that and at the bottom displays "iStick 50W".  There doesn't seem to be any ventilation holes that's visible throughout the iStick.
I'm easily enjoying the overall appearance of the iStick 50W, but from first impressions it looked as if it was made cheap and generic.  The up and down buttons look silly since it's using arrows, but after using the iStick, that dislike began fading away as I felt how smooth and comfortable they were to press.  The size of the iStick 50W is comfortable, but what's even more so is that it has these nice rounded corners that feels fantastic to hold.  I don't too much personally care for where the OLED screen was placed, but the comfort of the device has made up for that easily.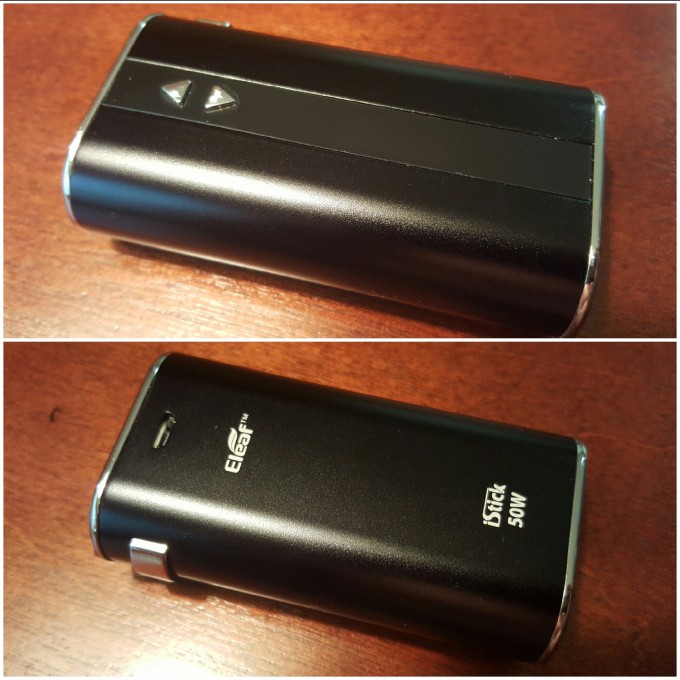 Features
Though the iStick may have given me the impression that it was cheaply made, I definitely can't tell it when the device is being held.  It has a bit of weight to it, which also comes from the static batteries inside.  Once actually held, the iStick 50W feels solid and like his has durability, something I didn't expect upon first viewing the mod.  And, just because it's cheaply priced doesn't necessarily mean it doesn't have reasonable features… expect a variable voltage and variable wattage mode, VV reaching up to 10V and VW reaching up to 50W.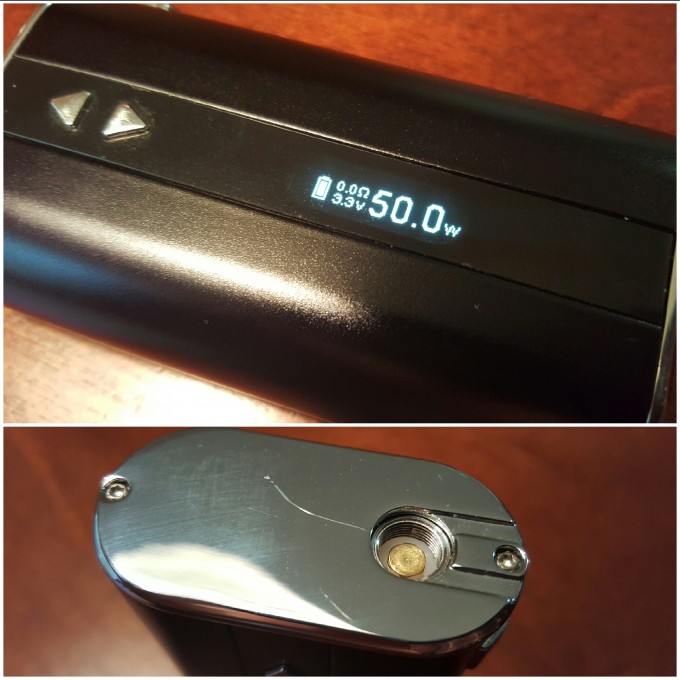 When placing the device in your pocket, they've made it to where you can lock the up and down buttons so that it stays at that exact voltage or wattage, and by turning off the device (5-click), you can flip the screen, which is a pretty nice feature.  Furthermore, the iStick 50W comes with a 510 spring-loaded center pin, and what should be the most noted is that it has internally charged batteries with a 4400mAh rating.  I was sold simply with the battery life.  There isn't too much more to it when it comes to features… I mean, this is exactly what the iStick 50W was designed for, to be cheaply priced, minimal features, yet offering high watts and long battery life.  In my opinion, it achieved just that with perfection.
Performance
When it comes to performance, the iStick 50W certainly has it being that it can dish out up to, well… 50 watts of power.  However, when it's judged power for power against other devices, it's what I call a standard 'hit', which is similar to what you'll receive from something like the iPV Mini or Cloupor Mini (at the same wattage).  Of course, if you want to pair your favorite RDA or sub-ohm clearomizer with the iStick 50W, you'll be more than pleased as it delivers the power and it can fire down to 0.2Ω.  I will probably never make it to 50 watts consistently, but hanging out 40 watts will last me a good 2 days of average use.