Smok first released its M50 sporting 50 watts, it then received an upgrade to 65 watts and to push the popular XPro Series even further, it finally released the latest addition, the XPro M80.  Since its release, it's definitely been one of the most controversial mods to hit the market and that's all due to its claim of featuring temperature control.  Despite the rumors and on-going talk, I just had to dive down, do some research and take a closer look for myself in this Smok XPro M80 Plus Mod Review.
Appearance
The Smok XPro M80 Plus doesn't look bad at all, it's just a bit odd-looking with the device being wide (55mm) and skinny (22mm) at the same time.  The longer I've had it, the more the appearance has grown on me though and it doesn't look quite as bad.  However, its look isn't necessarily  why I wanted to get my hands on this device, it was more aimed towards its features and performance.
To continue on and give you a clear picture of what you're looking at, the M80 Plus consists of an aluminum body, while the top and bottom plates consist of zinc alloy and are held down by allen screws.  The top plate holds the 510 connector with a spring-loaded center pin, while the bottom plate has a micro-USB charging port and 23 holds that act as its ventilation.  One one side of the device there is lines etched into the body for appearance, exactly like what was seen with the XPro M50.  The opposite side has the fire button at the top, the OLED screen a little further down a wattage up and down button, while a small hole to reset the device sat in between them.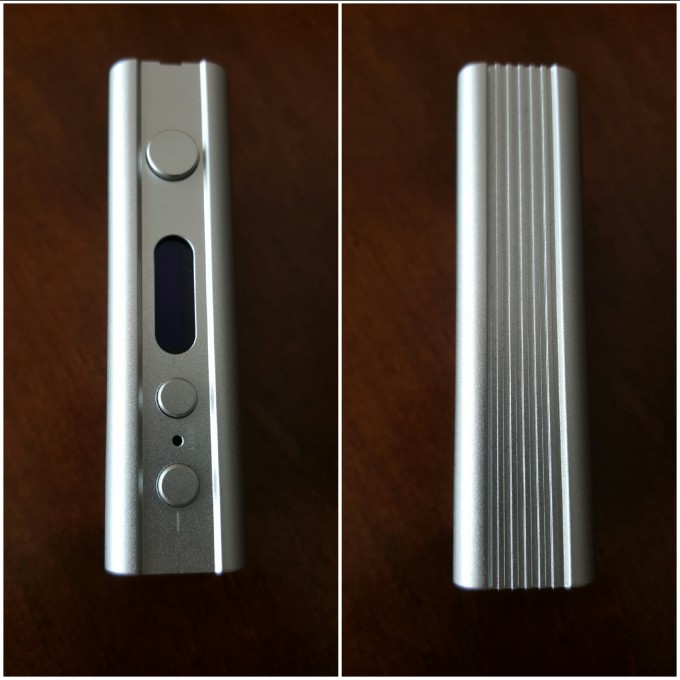 Features
The M80 mod is powered by two 18650 Li-polymer batteries equaling up to a massive 4400mAh.  The device has the ability to run as high as 80 watts and can fire down as low as 0.1Ω.  Another feature the M80 Plus has is that its batteries are internally charged through its micro-USB charging port and can't be extracted to charge externally.  Though this device has quite the battery life, not being able to externally charge the batteries can be a make it or break it deal for many.  Another notable feature is that the M80 has both variable wattage mode, as well as a "Mech Mode", which merely relies on the battery itself for power, much like a mechanical mod.  Now, of course with so many features, the M80 also has a menu system for other features, but you'll have to watch the video review attached to this written review to learn about that or if you purchase the device, you can better explore those features for yourself.
The last feature that I would like to talk about is the temperature control, which Smok claims the M80 Plus has.  When first receiving the M80 Plus, I began testing the temperature control feature with nickel wire, and the results were rather disappointing.  Smok claims that the M80 has the temperature control feature, yet when I do a dry burn test, my cotton will burn instantly and no temperature regulation comes into play.  I was honestly stumped by this and wanted more answers of what is going on with this device.
I searched all throughout the internet for answers and finally began to understand that the M80 doesn't have temperature control at all, or at least not like you would expect.  During my research, I seen that Smok said on their Facebook Page that their temperature control feature works with both nickel and kanthal, thus proving that real temperature control doesn't come with the M80 since kanthal wire's resistance doesn't move enough for the device to read and accurately calculate the temperature.  Hell, to be honest with you, I may have over-thought this all and not understanding at all how temperature control actually works… using temperature control is one thing, understanding exactly how it works is another.  With one search, a user on ECF came to the conclusion that what the M80 is doing is going by a predefined wattage based on the temperature you set.  However, I still do not know exactly what the M80 Plus is doing, but  it's definitely not regulating the temperature as you would see with a DNA40 device.
To be honest, I'm bummed that this device's temperature control didn't hold true and I'm stunned that Smok would even claim that it has the feature.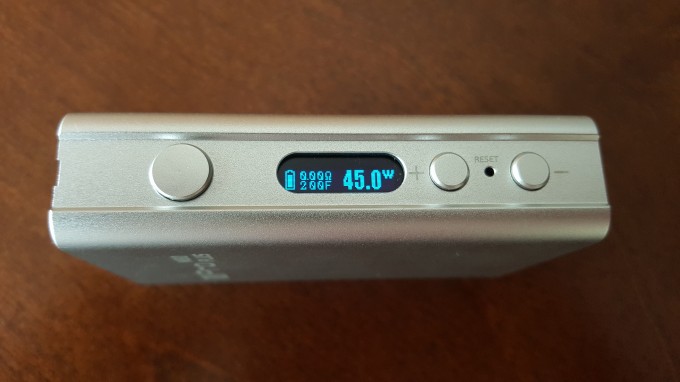 Performance
The Smok XPro M80 mod performs great for what it is.  It has a large battery capacity and performs exceptionally well, being that it can go up to 80 watts.  I'm able to last days on the same charge while continuing to vape at high wattage.  None the less, it's easy to produce big clouds when you're being backed with 80 watts.  Since the temperature control feature has been debunked, there really isn't much to say about the device's performance other than it working perfectly well as a high wattage and large battery capacity only device.