NicVape is a manufacturer, retailer and wholesale supplier of Premium American Made e-liquid based out of Spartanburg, South Carolina.  The company is best known for the e-liquid it makes with a higher percentage of PG (Propylene Glycol), but it has recently moved with the demand of the market, entering the high VG (Vegetable Glycerin) space with its Wildside e-liquid collection.  Today, I'll be giving you a rather interesting look at the package I received as well as sharing my thoughts in this NicVape Ringer Leader E-Liquid Review.
Quality
Since I haven't tried any other Wildside flavor from NicVape, I can't really compare or get an idea of the base that is being used with this e-liquid, but from this flavor alone, the quality seems to be just fine.  I'm not getting any foul taste nor any strong taste of nicotine, and only receiving the taste of the fruit loop flavor that Ringer Leader is said to taste like.
The Package:  I received a rather interesting package from NicVape. It was a box with more than a few words written inside explaining the flavor, their mission and what they hope to achieve with this e-liquid.  I like the fact that they made a well thought out presentation, not only to win me over with their brand, but also to explain themselves and their product.  Inside this box was a shirt, a box of froot loops cereal and the Ring Leader e-liquid.  I absolutely love the shirt and couldn't be any more appreciative of the kind gift, but what really got me was the box of froot loops.  When you send me the food that you're claiming your e-liquid flavor tastes exactly like to compare with, it lets me know that you're on top of your game and have that much confidence in your product.  Well executed and a great way of letting me know that "hey, our flavor is spot on!".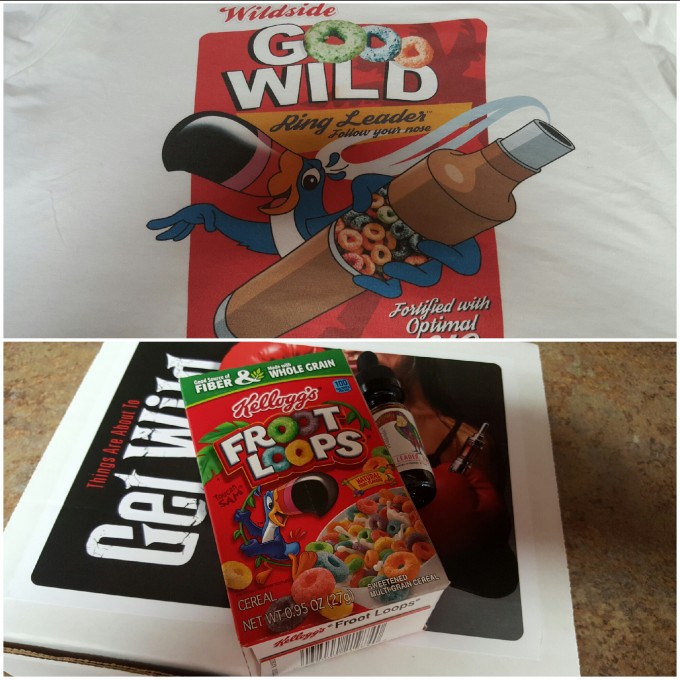 Flavor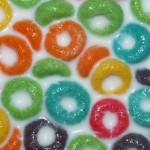 As for the flavor, obviously it's meant to taste like the original froot loops cereal, and I must say, this is the best froot loops vape I've taste thus far.  In other froot loop flavors you typically taste a lot of lime, but this one isn't like that.  Ring Leader is more of a well round flavor, where it captures the taste of the cereal as a whole, including the taste of milk.  Imagine your bowl of cereal already covered in milk, no need to push the loops down with your spoon, because you're getting the full flavor of froot loops and milk with this Ring Leader flavor.
Vapor Production
Ring Leader is mixed with 70% VG and 30% PG, so achieving a large vapor production is rather easy with a decent coil build.  If you watch the video in this review, you'll see that I'm chucking the clouds with no problem.