Though Smok has recently become highly known for its mods, it has always been known for the attachments it creates for our devices.  They've always been a popular manufacturer, creating notable products like the Dual Coil Cartomizer Tank, among others.  To prove they're just as much into the game as ever, they've released a pretty outstanding sub-ohm clearomizer that is quite interesting.  Today, I'll review that clearomizer, the Smok Vapor Chaser Tank A-1.
Appearance
The appearance of the Vapor Chaser Tank is minimal, nothing to extravagant to place it over other existing tanks within the market, so there isn't a whole lot to comment on.  However, the VCT doesn't have an uninviting or harsh look, so there isn't much to complain about either.
The body of the VCT A-1 sub-ohm clearomizer is made of stainless steel, while the tank portion is a borosilicate glass.  It stands just 70mm tall and is only 22mm wide, giving ample storage for e-liquid while still maintaining the correct size to fit perfectly with most devices.  Without e-liquid, the tank weighs approximately 52g.  The wide bore drip tip has 2 lines extruding the tip to add to its appearance, two black o-rings seal the tank, and the bottom base says "Vapor-Chaser", while the opposite side holds the "Smok" logo.  Just below that on the base is 2 air holes, one on each side, and the ability to adjust the airflow.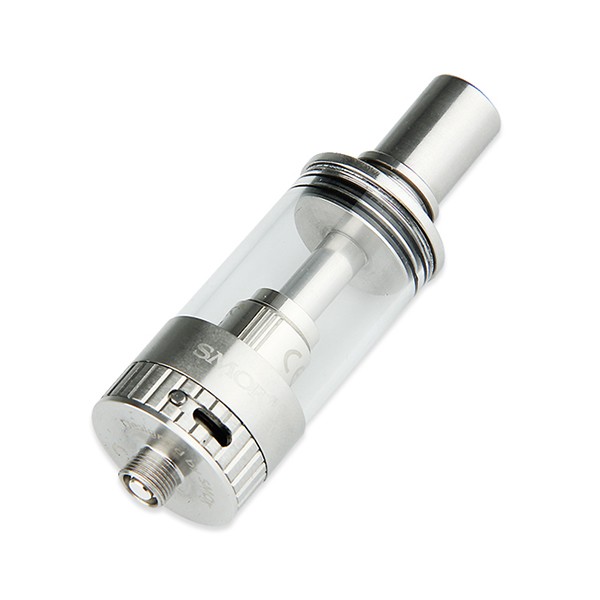 Features
The Vapor Chaser A-1 is made of stainless steel, and holds up to 3.8ml's of e-liquid.  It has adjustable airflow with 2 air holes on each side of the base.  The VCT is a sub-ohm clearomizer, so it must offer sub-ohm replacement coils of course.  What's fascinating about the VCT is that it not only offers the A-1 coil, which is 0.5Ω, but it also has other coil options as well.  With each replacement coil option, organic cotton is being used.  Here's a list of those options.
A-1: Single vertical coil with special adjustable e-liquid flow design for use with all different PG/VG ratios. Available in 0.5Ω and 1.2Ω resistances.
X-1: Single horizontal coil with airlaid paper for a more stable liquid feed. Available in 0.5Ω and 1.2Ω resistances.
X-2: Dual horizontal coils. Lower resistance and longer lifespan than the X1-core Rebuildable DIY core: RBA coil design with dual air channels and greater airflow.
Ni200: Pure nickel non-resistance wire for use with temperature-controlled devices. Vertical coil design.
Rebuildable DIY: RBA coil design with dual air channels and greater airflow.
As you see, the Smok Vapor Chaser Tank isn't some revolutionary sub-ohm clearomizer, but its coil options available really turn this tank into the beast that it is.  To see those coils up close, I've include the A-1, X-1 and X-2 in the video provided.
Performance
Even with the pre-installed A-1 0.5Ω coil, this clearomizer performs great.  The device has decent airflow when left wide open.  I haven't yet received any wicking issues while in its recommended 20-30 watts on each coil and the vapor production is definitely on point.  Out of all the clearomizers I've used to date, the VCT performs the best for the combination of flavor,vapor and the ability to wick without any issue.

A-1 Coil 0.5Ω: Performs great at 30 watts. Wicks great, awesome flavor and great vapor production.  This coil is rather interesting.  It's a vertical coil, uses organic cotton and has plenty of cotton holes for the best possible wicking job.  What's so interesting about this replacement coil is that it has this cap that can be screwed up and down to either have the cotton holes wide open or to cut them off a bit to reduce how much e-liquid is being fed to the coil.  What I don't like about this design is that the cap can spin freely, so you'll often see times where it moves, especially when refilling your tank.
X-1 Coil 0.5Ω: The X-1 Coil performs great, tons of vapor, great flavor and wicks perfectly since there are tons of cotton holes.  With this coil, there are big spaced wraps with what looks to be 26g Kanthal wire.  Just the way the coil looks is the way it performs, big ol' fat clouds.  This coil works great, but you can tell that it's a single coil, just like with the A-1.  You get a solid vapor production, but if you're looking for the most vapor production possible from this clearomizer, then out of the 3 coils shown, the X-2 will be the pick of the litter.
X-2 Coil 0.4Ω: The X-2 is a spaced micro monster… it simply puts out the vapor.  Now, just because the vapor is outstanding, doesn't necessarily mean it fell short on flavor, because that is on point also.  Out of the 3 coils, this one has been my favorite.