Today, Smok Technology, announced the release of its second version of the Smok X Cube.  The Smok X Cube presents a beautiful design with its flashy colored LED bar, and has the technology behind it to make this device a tech overload monster.  Let me explain why…
The Smok X Cube stands just 100mm tall, 60mm wide and 24.5mm in diameter.  It's powered by 2 replaceable 18650 batteries, can run up to 160 watts, has the latest temperature control function, and even supports 4.0 Bluetooth technology that can be paired via a mobile application.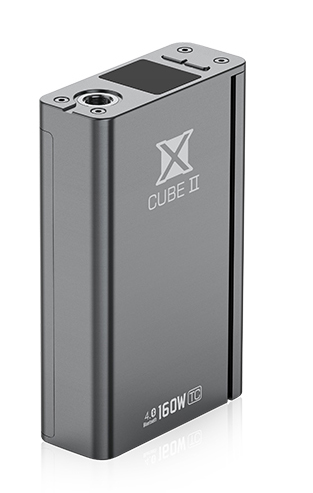 The SMOK X CUBE II is a substantial upgrade in all aspects. Beautiful all-metal design with brushed-metal finish, and bigger OLED display, it looks like an integrated whole. It supports Bluetooth 4.0 technology, and a customizable LED that potentially illuminates in up to 16 million colors. 160W maximum output will bring you an unexpected vaping experience. Magnet-held battery cover allows you to replace batteries almost instantly. And there many more functions are waiting for you to discover. All these make X CUBE II one of the most excellent devices ever made.
Specifications
Size: 100 x 60 x 24.5mm
Weight: 238.6g
Output Power: 6W-160W
Output Voltage: 0.35V-8V
Standby Current: < 300uA (when the batteries are full)
Maximum Input Voltage: 8.80V
Resistance Range: 0.08Ω—3.0Ω
Temperature Control Range: 200°F-600°F/ 100°C-315°C
Material: Zinc Alloy and Stainless Steel
Thoughts
The Bluetooth feature I feel is a bit gimmicky and won't be used by most consumers, but I feel they've definitely made progress with this series since it has the capability of firing up to 160 watts.  However, we were let down with their Smok X Pro M80 Plus because of the temperature control not working as most had hoped, so I'm not quite sure Smok has been completely forgiven.  Although the LED bar is a bit childish, I like it… it's something new and would definitely give you something to talk about during a vape shop visit.  I'm honestly not sure how I feel about the screen placement and the buttons… maybe something I would have to get used to.  Overall, the X Cube 2 looks nice, I'd rock it… as long as the temp control feature worked as well as other devices with the YiHi and Evolv chips.
Price: $79.99
Where: GET IT HERE
What do you all think?  Love it, hate it or really don't care too much for Smok devices?