It seems as if almost every vaper is into rebuilding atomizers these days.  It's shocking, especially since rebuildable atomizers were only used by the most advanced of vapers just a couple of years back.  However, there's no denying its benefits of outstanding flavor, vapor production, and that it'll save you money by eliminating the need to continue to purchasing $2 to $5 replacement coils for a clearomizer.  Granted, $2 may not sound like much, but it adds up and can't definitely put a small dent in the bank.  That said, many have now migrated to rebuildable atomizers, and they've become the norm.  And, if you're rebuilding, of course you'll need the right tools.  Today, I'm going to share with you this Vipster Vapes #GOODBUILD Rebuildable Atomizer Tool Kit Review in normal GTV fashion – both written and in video!
(the #goodbuild kit was sent for review by VipsterVapes.com)
Appearance
The #GOODBUILD Kit looks great, and I like that it's all blacked out.  The zipper case opens up to tools sitting on each side and a flap resting in the middle with a zipper pouch.  Inside, each tool is fastened down by a elastic band, which keeps them securely in place.
Quality:  When I went to unzip the inner pouch, the zipper pull slipped right off the track completely since there wasn't anything to stop it.  Either the kit I received was torn on that end and without a stopper or the quality of the way the zipper was made may be lacking.  The scissors felt a bit cheaply made, but they certainly looked nice and cut decent as well.  I can see the price of this kit being what it is, if the tools and case were made with a better quality.  None the less, the tool kit gets the job done.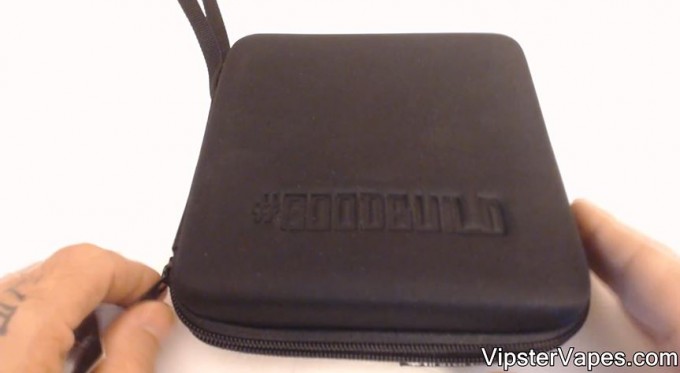 Features
Just like any RBA tool kit, what you're getting out of this is a slew of various tools to help you build a little bit easier.  All the tools in this kit work well, but I would have enjoyed seeing a different coil jig, since there are others that wrap coils better.  There isn't much to say about a rebuildable atomizer tool kit, so I'll list what tools come with this kit so that you can get an idea of what you'll get.
Coil Wrapping Jig:  Easily wrap micro, nano and macro coils.  Includes 5 sized rods.
Atomizer Screwdriver 8-in-1:  Includes 8 bits that can be stored inside the screwdriver.  Can be used with most Phillips and Flat Head atomizer screws.
Curved Needle Nose Pliers:  Bend and adjust wire.  Make center coil builds like a pro!
Ceramic Tip Tweezers:  Allows you to adjust coils while firing to get rid of hot spots.
Flush Wire Cutters:  Heavy duty with a sharp edge.  Cleanly cut Kanthal and Nichrome wire up to 20 AWG.
Scissor Cutters:  For cutting atomizer wick.  Cut exactly what you need for your build without the waste.
Atomizer Ohm Meter:  The essential vape tool for safety.  3-Digit display reads the ohm resistance of your build down to the second decimal.