I recently received the VC4 Battery Charger from Xtar, which is a super high-tech charger that comes with has 4 slots and has a large display screen full of information about your battery.  Just for a heads up and for clarification, I'm not an expert with battery chargers… in fact, I known very little about them.  What I do know is, they charge my batteries, some charge faster than others, some can charge on a 0.5A current, some can charge on a 1.0A current, and some have more features than others.  That said, bare with me in this Xtar VC4 Battery Charger Review.
(I received this product from XtarLight.com for review)
Appearance
The Xtar VC4 looks amazing… it's like the more technology packed version of what a charger is.  At the top there is a 5V DC port, which allows you to connect to a USB adapter.  The front of the device boasts the Xtar logo, while a much bolder print displays VC4 to the right.  Just below is a rather large screen that displays charging current, battery voltage and charging capacity.  Below the screen are 4 LED lit indicators displaying CH1, CH2, CH3, and CH4.  Each channels shows green when there is no battery present or when a battery is fully charged, but displays red while the battery is currently charging.  In the middle of these lit indicators is the CH button (more on that in features).  Below those indicators are 4 slots to charge your batteries.
Quality: The is probably the best quality charger I've owned and used to date.  As soon as I received the VC4 Charger and used it, I did the right thing and passed off my LUC V4 charger to a local friend.  Granted, the VC4 uses the same plastic material all of these chargers are made of, it's light like others, but from the display screen, you can tell there is a lot more going on in the inner-workings of this charger.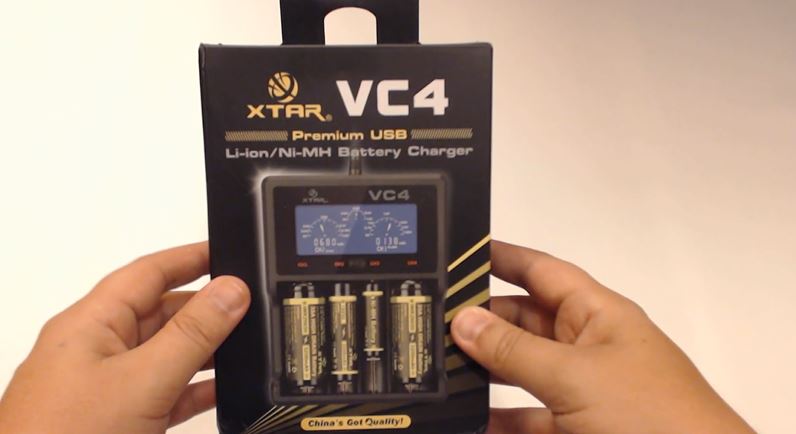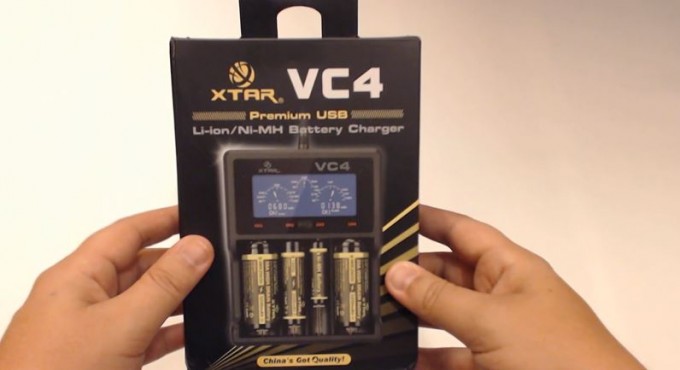 Features
This charger has a slew of features, but what I've enjoyed most out of them all definitely has to be that when you insert a battery, it shows you the milliamp hour as it charges.  And then, when it finishes charging, it you see what your batteries are actually charging up to.  One thing you'll learn with this charger is that after a few months time recharging batteries and using them, they begin to die down and offer less mAh than what they originally were.  That said, you may find that your 2500mAh battery may only charge up to 2000mAh after a few months of use, which is what I've run into.
Other than that, there are plenty of features on this charger that are notable, such as its soft start technology, foreknowing the battery life, intelligently identifying different batteries, reverse polarity and charger short-circuit protection, as well as being able to charge 4 batteries independently of one another.  Moreover, the large screen displays the battery's voltage, charging current (either 0.5A or 1.0A) and as mentioned above, the battery's charging capacity (mAh).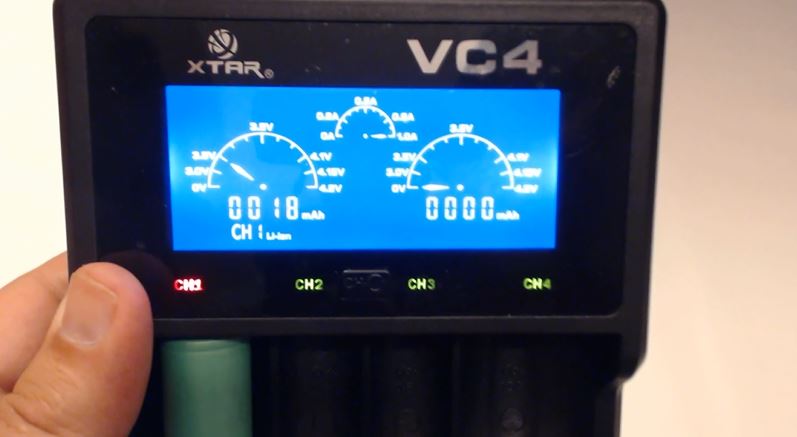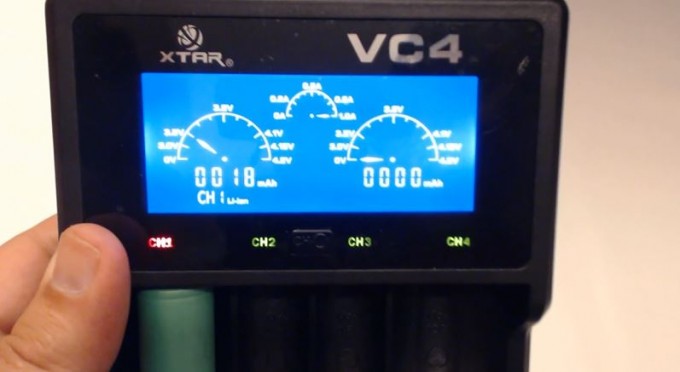 Performance
The display screen alone gives you more information and keeps you up to date on the display with how your batteries are doing, as well as what is going on with them.  With the Xtar VC4, you can charge batteries independently, meaning I can charge one battery at 0.5A, while another can be charging at 1.0A.  However, the charger seems slower at charging my batteries than my LUC V4 charger, but Xtar advertises this charger as the most accurate… so maybe the others are charging faster because a full charge isn't actually full.  Who knows to be honest.  Anyhow, the bit longer wait is definitely made up for with the other features this charger has to offer.