If you haven't heard, Sense just released its new Cyclone Sub-Ohm Tank, which has the capability to be used up to a whopping 150 watts!  If you've ever thought that our clearomizers wouldn't be able to perform like a rebuildable, this tank has proven you wrong.  Let me tell you a bit about it below.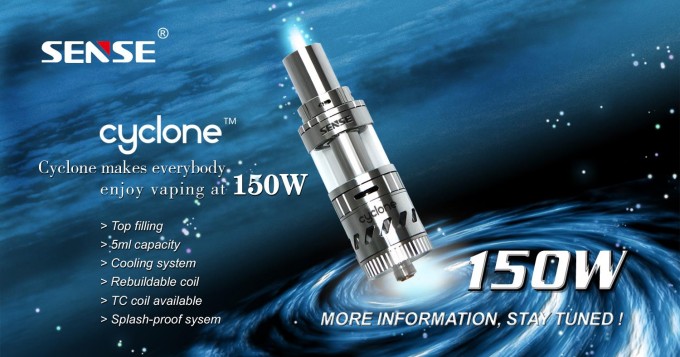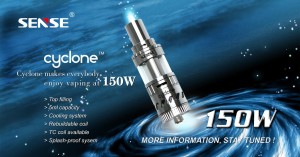 The all new Cyclone is a remarkable, next generation sub-ohm tank by Sense.  After the huge success from its Herakles Tank, Sense went back to the drawing board to deliver a product that will send waves throughout the vaping market, and they did just that!  The Cyclone Tank is constructed of high-grade stainless steel to give it incredible durability and has a copper 510 contact for a solid connection on whatever device you place it on.  It also features a top fill system, which allows you to refill your tank from the top of the device, making it highly convenient.  And, to keep up with the rest of the, what some call hybrid tanks, the Cyclone also has a rebuildable head.  Where this monster of a tank really takes the spotlight, is the amount of power it can handle.  That's right, the Cyclone Tank can handle quite the load, as it has the capability to be used up to 150 watts!

However, in order to use this huge amount of wattage, the Cyclone features 3 different airflow sections for extreme airflow and maximum control over the vapor output.  Furthermore, you'll be pleased with this stunning tank, since it reduces heat spitback with its splash proof system.  Being as thought you'll be chucking huge clouds with the Cyclone, it comes equipped with a large 5mL tank, giving you all the capacity needed for running such a high wattage.
If you're looking for a high performance tank that will take you to the extreme with glorious vapor production, then you'll love to get your hands on the all new Sense 150W Cyclone Tank!
Product Specs
Stainless Steel Construction
Pyrex Glass Tank
Copper 510 Contact
22mm Diameter
5mL Tank Capacity
Can Handle 150W!
Fully Adjustable Airflow Control (3 Separate Airflow Intakes)
Top Fill System
Anti Spitback System
Wide Bore Stainless Steel Drip Tip (With Adjustable Airflow)
Product Includes
1x Cyclone Sub-Ohm Tank by Sense
1x Additional 316L Coil
1x Pre-Installed 0.6Ω Coil Head (50W – 150W)
1x Spare Pyrex Glass Tank
Coupon: DNA10
Price: $35.99
Where: GET IT HERE
Sense Cyclone Replacement Coil (150W): GET IT HERE