If you're anything like myself, you love strawberry and candy flavors!  This e-liquid review for Namberjuice's EpiClouds Strawberry Circus is something you need to read.  After stepping into a friends store earlier today, she pulled me to one side and gave me her mod.  I took one hit and fell in love immediately with the flavor that was running around the inside of my mouth.  Unlike so many other flavors that disappear as soon as you exhale, this one stays with you for a while, but more on the flavor in a minute or two.  The testing portion of this review will be done as always on my trusty iPV3-Li set at 66.6 watts and running a 0.27 ohm dual coil setup on my Dark Horse RDA.  Consistency is key when I test juice, so each one gets a fair shot.
Appearance / Packaging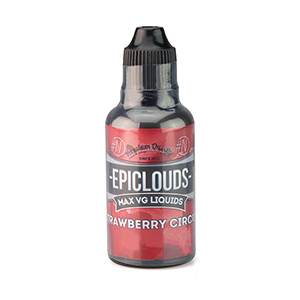 When they packaged this e liquid they wanted to make sure that no one (and I mean no one) was able to tamper with the contents of the bottle.  The shrink-wrap was from the top of the cap all the way to the base of the brown plastic bottle.  Having a perforated strip would have been preferable to make opening slightly easier, but for now that is only a minor mark against it.  After using my keys to get into the packaging I found a childproof cap, also plastic that does its job efficiently.  Underneath the cap is the only piece of clear plastic on the entire bottle, the drip tip, which has a wide hole for ease of dripping and was secured in place.  Moving down the bottle we have a label that covers the entire circumference of the bottle (a nice touch, no gaps for sunlight to get through).  The label contains warnings and an ingredients list, bar code, lot code, the manufacturers address and then the logo and product information on the front.  As far as labels go, this one is well made; I have a small test I run on all e-liquid bottles to see if the labels disappear on contact with water – this one stayed intact.

Flavor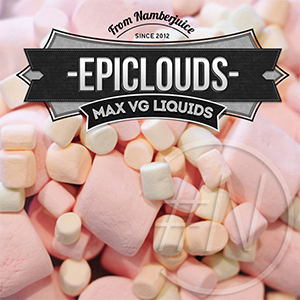 The product description states that "This strawberry flavor is for those with a sweet tooth! This strawberry is very much a candy strawberry flavor and has a taste that can't be matched."
As I mentioned at the beginning of this post, I love strawberry and candy flavors, and this does not disappoint in the slightest.  Although the website shows images of strawberries and marsh mallows, I believe they are slightly off the mark in this description.  As a child, I enjoyed a very specific hard strawberry candy that would stay in my mouth for hours at a time.  I always took my time eating them because the flavor filled every taste bud and even after the candy was gone, the flavor would stick around.  This juice does the exact same thing.  It is by no means an attempt at a strawberry juice, it makes no apologies as it is sweet and succulent, and if it were a candy you would stop your kids from eating it because they would need fillings from all the sugar.  In case you didn't notice, I liked this flavor.
Vapor Production
On the front of the bottle  between the company brand and the flavor profile sits a banner that proclaims "MAX VG LIQUIDS" and it performs appropriately.  With the amount of flavoring they have packed into this bottle, the cloud production should have been affected, and in all honesty the plumes were thick and plentiful.
As always, enjoy your vaporizer and vape safe!