Recently, I was contacted by Conviction eLiquids to review the three flavors that make up their e-liquid line.  When I received the package, I got a brochure telling about the company and information on its e-liquid, a sticker, and three well packaged bottles of e-liquid.  Today, I'm going to review those three flavors from Conviction eLiquids.
Quality
The quality throughout all three bottles were great.  The nicotine seemed on point with being 3MG, it had a smooth taste and feel to all three and the bottles themselves were packaged really nice, containing child-resistant caps, heat shrink plastic, the e-liquids flavor name, description, the nicotine strength and the size of the bottle.  To the side it also shared information on the ingredients in the e-liquid, and a warning.
Flavor
Joyride: The Joyride flavor is described as a "blood orange, while chocolate with a hazelnut espresso finish."  In this flavor you can definitely taste the hazelnut espresso hint that it has to it, and that's something that I don't favor so much.  Though it had a nice taste to it overall, it just wasn't something I personally would care to vape.  However, the flavor was nice, and if you're into those some-what coffee tastes, then this flavor may be something you want to try.
Peelout: The Peelout flavor is described as a "banana with a smooth blend of tropical coconut and pineapple."  With this one, you can easily tell that the banana is more prominent, but the subtle blend of coconut and pineapple evens things out perfectly, even though it's more of a hint between the two.  The banana flavor almost tasted like a banana popsicle, just without the cool taste to it.  I enjoyed vaping the Peelout flavor, since I favor this exact banana taste.
Smash&Grab: The Smash&Grab flavor is described as a "luscious lemon berry."  And, boy is it luscious and super delicious!  Out of the three flavors, this is the one that I liked the most.  It has a smooth taste, and has been perfectly blended evenly between the lemon and berry flavor.  If you're looking for a flavor that is both exciting and overly delicious, this Smash&Grab flavor is definitely one I recommend you trying.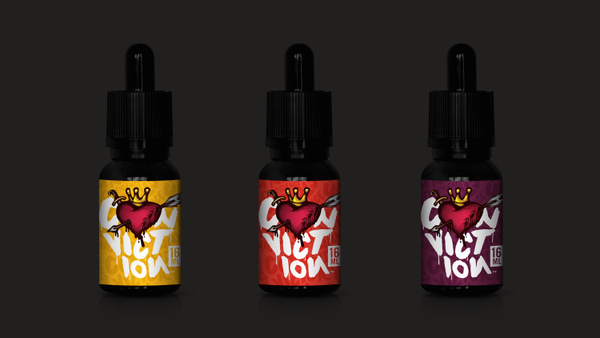 Vapor Production
Being that all three e-liquid flavors are mixed with 70% VG, you can expect a plentiful vapor production.  Clouding up my office was rather easy, but it didn't help that I had this e-liquid spread across two 0.3Ω coils at 60 watts.  As you seen in the video, I had no problem throwing out decent sized clouds with this Conviction eLiquid.