I was contacted by Vapejoose to review a few of their flavors, so today you can read or watch my Vapejoose e-liquid review.
Quality
The quality in all four of these flavors reviewed today wasn't bad at all, but I would have enjoyed them more seeing better design labels on the bottle.  It isn't that these labels affect the flavor, it's that it affects the professional look of the product overall.  With so many e-liquid companies out there and the competition that is present, you've got to have a professional and perfect looking bottle to win over consumers, rather your flavors are great or not.  It wasn't that the labels were terribly bad, it's just that I personally feel we've come far and are beyond images being on the bottles, and the size, VG percentage and nicotine strength was hand written on the on the labels.  Besides that, I seen nothing wrong with the quality of the flavors themselves.  Everything tasted smooth, and you couldn't tell the base used between each of them.
Flavor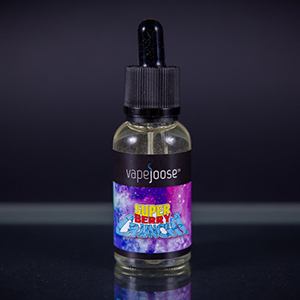 Fruitastic: I'm assuming fruitastic is supposed to be a fruity pebbles flavor, but it tastes like a mixture between froot loops and fruity pebbles.  This is definitely a good flavor.  I've tried many flavors in this category, and this is one of the better froot loop/fruity pebble flavors that I've tasted (and, I've tasted many).

Super Berry Crunch: With Super Berry Crunch, I was "super" shocked at how well it tasted.  I didn't think I would like it as much as I did, but it was damn good.  It's meant to be like the crunch berry cereal, and it tastes exactly like it.  You can taste the overall captain crunch flavor, then you'll notice the hint of those berries, which is absolutely delicious.
Electrical Forest: Though I wasn't too big on Electrical Forest, it was still a pretty good vape.  It tastes like a mixture between Mt. Dew and some other lemony flavor.  To me, it just seemed like it was too much… like too much lemon and lime going on or just too much flavor period.  Either way, it wasn't a bad flavor at all, just not something I can continuously vape.
Blueberry Cheesecake: This flavor was another shocker, since I'm not a huge fan of e-liquid flavors in this category.  However, this Blueberry Cheesecake definitely shocked me.  It was actually much better than I had imagined.  There was no huge cheese type taste to it like I was thinking it was going to be, but it does have a huge blueberry taste.  The blueberry taste isn't like a candy taste, it's more like a real blueberry, which I was surprised that I liked it so much.
Vapor Production
All of these e-liquids were mixed at 70% VG, so as you can expect, achieving a large vapor production came rather easy.  I actually filled up my office so much trying these flavors that I had to take a break and open up the door for a bit to let it all air out a bit, but that didn't help too much.  It didn't help that I was running these liquids on two coils at 0.3Ω and pushing 60 watts.