A Billion lives, a vaping documentary bringing into focus the lies and misconceptions brought about by the anti-vaping movement has been placed squarely into the spotlight this week as Facebook deems a movie aimed at saving lives as a tobacco product.
According to the multinational corporate giant, the movie which exposes corruption involving Big Tobacco, Big Pharmaceutical, and countless governments from around the world while trying to save lives in the process, can not purchase advertising banners on the site as it is selling or attempting to sell a tobacco product which is against their terms of service.
Corporate Censorship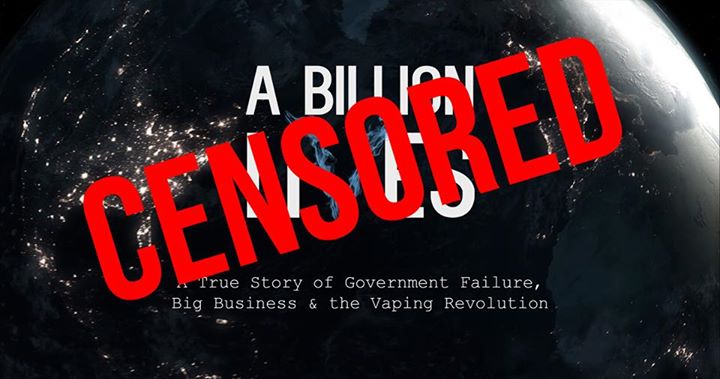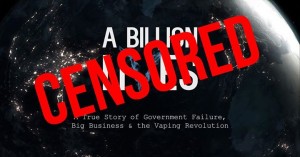 While some are screaming from the roof tops about this being an affront to the first amendment, we have to take a step back and remember that companies can not be held to the same standards as the United States government.  While the government may not infringe upon free speech, the reality is Facebook can do as it deems appropriate.  Facebook's mission statement may have originally been:
 "To give people the power to share and make the world more open and connected. People use Facebook to stay connected with friends and family, to discover what's going on in the world, and to share and express what matters to them"
But they appear to have forgotten their path on a number of subjects over the years, vaping being just the latest to come under fire.
Facebook officially rejected the movies request to purchase advertising space because, in their corporate mind, vaping and vape related products are no different from tobacco products, which have been prohibited from advertised on television and radio under federal law since 1970.

A Billion Lives Reaches Out
Aaron Biebert & the production team for  A Billion Lives wrote an impassioned post and letter directly to Mark Zuckerburg and his Facebook team.  This quickly turned into a firestorm with vapers across the platform.  While Mr. Beibert points out that Facebook policy for any product or business page is already discriminatory unless the owner pays to be seen by more than a tiny percentage of their own followers, he states that the corporation is further minimizing their reach.
"You call our film a tobacco product, yet we are trying to help people quit.
You promise to make the world more open, but you are closing it off."
"We call on you to end your ongoing censorship of our film, and to allow advocates for a smoke free world to share information and connect with each other.  Every post with the word vaper, vape, or vaping should not be automatically censored.  Your reviewers should pay attention to those of us that ask for clarification, not tell us "The decision is final."  Every time you censor us or others with a similar message, you are protecting the status quo:  a billion people dying from smoking."
The Aftermath
Whether it was the intention of Facebook to censor the movie's message or if this was truly a case of a corporation attempting to operate withing the confines of the law as it see's it will remain a point of contention for many weeks and years to come.  In truth, by refusing to allow the advertising of A Billion Lives, they have created a frenzy amongst potential viewers who will make sure that everyone knows what has taken place.  A movie about corporate corruption and censorship being subjected to the very thing it is speaking out against is arguably the greatest publicity they could have received, worth so much more than the banner space that many people would have ignored.
I was excited for the release of A Billion Lives before this situation escalated, as should be every other vaper, smoker and non smoker alike.  But now, in the shadow of the very thing they we're speaking out against, I am on the edge of my seat in anticipation for it to be on my screen.
As always, enjoy your vaporizer and vape safe!