Each day we read posts asking for information on which sub-ohm tank is better and why.  We've decided it's time to put these tanks head-to-head and figure out who is really the king of the hill.  We will be taking these sub-ohm monsters and pairing them off in battle until there is only one remaining:  The King Of  Sub-Ohm Hill.  Stepping into the ring for the first battle will be the Horizon Phantom Tank vs the Smok TFV4.  Let the battle commence!
Please be aware that the following article is based solely on the authors own opinion and may not represent the mindset of the website as a whole.
---
Horizon Phantom Sub-Ohm Tank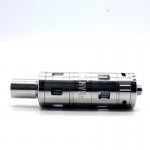 Brought to us by the company that offered up the widely loved Arctic Tank, Horizon wanted to think outside of the sub-ohm'ing box when they came up with this design.  At just 22mm wide, it is constructed from 304 stainless steel to give it a long-lasting durability alongside high quality Pyrex glass.  As the cherry on top, it has a wide bore 510 Stainless Steel Drip Tip.  It also features a two chamber liquid storage system, a built-in mechanical cooling design and looks like nothing else in the market place right now.  The manufacturers claim it has the ability to recycle liquids and prevent spit back or splashes from the tank as well.  You get 5ml storage space for your favorite juice, and following in the footsteps of its older cousin, it offers great flavor and massive cloud creating vapor production.  The coils are made from 316 stainless steel and wicked with organic Japanese cotton to offer you the greatest vaping experience it possibly can.  If you choose to move away from the pre-built coils that are provided with the system, have no fear, this bad boy comes equipped with a rebuildable deck too.
Horizon Phantom Sub-Ohm Tank: GET IT HERE
---
Smok TFV4 Sub-Ohm Tank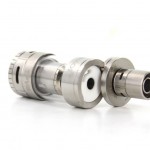 Next to step into the ring is the Smok TFV4.  The manufacturers challenged their own design team to come up with a concept  far outside the realm of sub-ohm tanks, and this behemoth is the result of that experiment. Constructed from 100% stainless steel and a Pyrex glass tank, it appears similar to other offerings, but we rapidly found that looks were as far as the comparisons went.  Stepping away from time-consuming refilling, the TFV4's  top fill design allows users to take advantage of the hinged top cap, a simple twist and you are in.  Although boasting a 5ml tank, filling isn't something you will have to think about very often.  The adjustable airflow for the TFV4 is not just sitting at the bottom, there is also a dual layered stainless steel wide bore drip tip, which is also equipped with adjustable airflow control.  The TFV4 takes the game up a notch by offering patented tri-coil (0.20 Ω) and quad coil (0.15Ω) heads, allowing the user to vape between 40 to 140 watts!  But don't worry, if the prebuilt coils still aren't enough fun for you to play with, you can also purchase a single/dual coil RBA kit.
Smok TFV4 Sub-Ohm Tank: GET IT HERE
---
Final Thoughts
The Winner: For me personally, the TFV4 easily wins this, what seems to be, hard-fought battle. While its opponent would out power most sub-ohm tanks, when you are battling against a beast with quad coils your "A Game" needs to be over the top.
Why: I feel that the Smok TFV4 wins this sub-ohm tank battle on 3 simple levels. While the Phantom has some innovative designs, it just can not keep up in terms of power.  Had it been paired against another offering it probably would have won.  As  for ease of use, I would rather flip the top of my tank than worry about the possibility of juice leaking out of the side, or even worse going to fill my tank and have the plate stick.  While this is innovative, in all honesty there are too many variables that could potentially go wrong.  For me, simplicity is key.  Finally the one let down as far as the Phantom is concerned in this battle is the fact that the tank gets hot.  Not just a portion of the tank, but everything from the base plate to the drip tip if you are going on a chain vaping spree.
Round 1 Winner: Smok TFV4
---
As always enjoy your vaporizer and vape safe!