Known heavily within the dry herb and wax categories for its vaporizers, Atmos seems to be making quite a push with devices that vaporize e-liquid.  I wasn't too fond of the company because of the affiliation with that category, but I've looked past it for this review since they are making strides to offer a product for those who use e-liquid.  Today, I'll be reviewing their latest offering, the Atmos i30 Box Mod, of course in both written and video format.
Appearance
The i30 Box Mod from Atmos looks rather pleasing; it's sleek, stunning, and the matte black body up against the mirror finished bezel and panel give the device its overall pleasing appeal.  The device features and compact design, and it even seems to be manufactured with some quality behind it, until you see the hard plastic material that surrounds both the 510 connection and its micro-USB port.  In my honest opinion though, if you're going to sell a 30 watt device for $70, it better not have one speck of plastic, and more-so it should be constructed of stainless steel.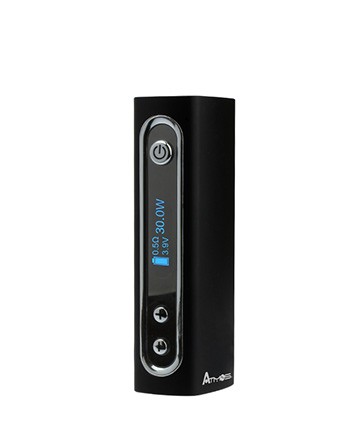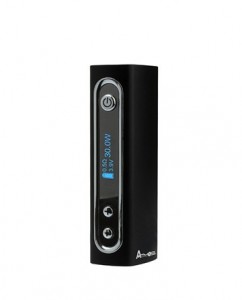 Features
When it comes to the i30's features, there isn't very many.  In fact, it's a simple device, but I think that's why I enjoyed it so much when using it.  However, the Atmos i30 isn't just bare bones, it does feature a 510 connection, an OLED screen, a built-in 2600mAh LG battery, and also includes others like its 5-click on/off feature and its auto scrolling feature.  Moreover, it also has the ability to fire up to 30 watts, hence its i30 name, and it can fire resistances in sub-ohm territory.  Unfortunately, I don't have those exact numbers, but I was able to slap on the Atmos Sub-Vers Sub-Ohm Tank with no problem, which uses a 0.5Ω coil.
Performance
There isn't a whole lot going on with the Atmos i30, but it can perform well with its provided 30 watts of power.  When paired with the Sub-Vers Tank, I was able to push out some serious clouds, mostly due to the tanks features, but all-in-all having a good tank is only half the battle, the mod must power it for any type of performance.