Are the Smok TFV4 and X cube II the perfect partnership?  For vapers, finding the best combination of device and tank can be long and arduous, not to mention expensive.  After asking a series of questions to a number of vapers recently, there appears to be a consensus growing that these two were perfectly designed to compliment each other.
Was This The Smok Intention
Whether or not this was their plan from the beginning, a large number of vapers are pairing these devices together.  The power derived from the X Cube may outweigh the maximum wattage required to push the beastly coils of the TFV4 to its limit, but all that extra "umph" can be used with the rebuildable deck.  Lets break these two down and see what all the fuss is about.
---
 Smok TFV4

As far as sub-ohm tanks go, this is one of the leaders of the pack.  Its 22 millimeters of stainless steel and Pyrex glass may at first glance appear similar to other tanks that have been recently released, but as soon as you delve inside you realize it's a game changer.  Firstly, the hinged top cap makes filling easy, all it takes is a quick push and you are into the 5mL tank.  The airflow design on this tank is not only extremely generous, allowing for tight control for the mouth hitters or massive capacity for direct to lung, but we also find a second airflow controller on the dual layered stainless steel wide bore drip tip.  What truly sets this tank apart as a king amongst its class is the ready-made coil system it is sent out of the factory with.  We are not talking about the rebuildable deck, we are talking about the patented triple and quadruple coil systems that it was designed to use.  If you are looking for flavor, power, and ridiculously thick and creamy clouds, this is the tank for you.  Allowing users to fire between 40 & 140 watts, you need something with the ability to consistently push the boundaries of these coils.
Smok TFV4 Sub-Ohm Tank: GET IT HERE
---
 Smok X Cube II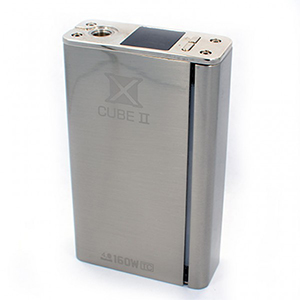 It may at first glance appear simplistic in design, but as with its partner in crime, looks are extremely deceiving.  Anything that offers up to 16 million colors on the fully customizable LED display has to be taken for at least a second look.  Firing from 6 to 160 watts, it has the power to run those quad coils and then some, using any where between 0.36 and 8 volts.  Coil selection is easy, if it is between 0.08 and 3.0 Ω it will have no problems.  More importantly, you have the option to switch to temperature control, a feature seen in many devices now with a heat range from 200-600°F.  This is a solid device, constructed from high-quality Zinc alloy and Stainless Steel, it can take a beating.  As a tech head, any device with functioning bluetooth controls is a must have for me, and this is on my Christmas list.
Smok X Cube II: GET IT HERE
---
Final Thoughts
Both the tank and mod described above are forces to be reckoned with separately, but once combined they are unstoppable.  We may never know if this was a plan hatched in a secret bunker inside Smok's factory, but there are vapers everywhere who are rejoicing at the brilliance created by this partnership.
As Always, enjoy your vaporizer and vape safe!