If you're looking for some great tools to help out with rebuilding your atomizers and just need something that will help organize your RBA tools, you're going to absolutely love this product.  Today, I'm going to review Coil Master's DIY Kit V2 in both written and video format.  Sit back and enjoy!
Appearance
When it comes to the looks of this DIY Kit V2, it looks a lot like Coil Master's other products, which all carry that black and red theme.  I'm a huge fan of their color theme and they use the red accents nicely.  This DIY Kit V2 by Coil Master has a hard top, but with a cushioned feel to it, and the Coil Master lettering on the top has been debossed.  It's more of s stealthy look, as if they're letting you know it's a coil master product, just not screaming it to take away from the case's sleek and stealthy appearance.  The side of the Coil Master DIY Kit V2 has a red zipper going all the way around.  As I mentioned, the red accent color really transforms the case into something really nice to look at.
Now, on the inside everything looks great.  All the tools have their own space, and the tools themselves have carry on with the red color.  You easily tell that Coil Master devotes a good amount of attention to the appearance of their product, which is just one of the reasons why I think so highly of this brand.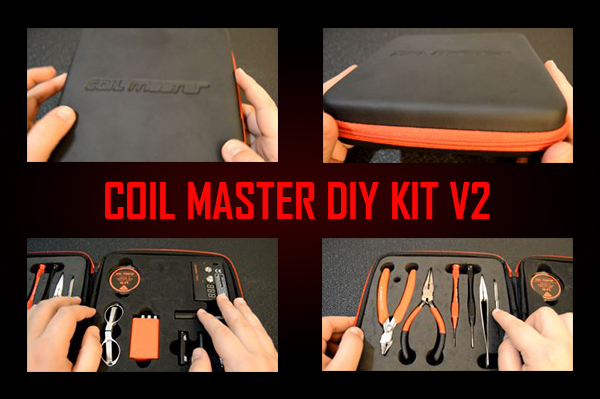 Features
There's many products that come in this kit, and they've all been placed in the kit for a good reason.  Each tool is very useful when rebuilding atomizers, but I do have one change that I would like to see in the next version.  The Coil Master DIY Kit V2 has diagonal pliers, needle-nose pliers, stainless steel folding scissors, a pen styled phillips screwdriver, a pen styled flat head screwdriver, ceramic tweezers, elbow tweezers, a spool of Kanthal wire, an ohm meter and the Coil Master Coiling Kit V3.  It basically has everything you need, and even comes with a pack of organic cotton. However, there is no special place in the kit for this cotton.  In the next version, I'm hoping that there is a place for cotton, and it would even be nice if they brought back the parts box that came in the first version.  And, if they're really open for some change, get rid of that cheap ohm meter… I mean, come on, who doesn't have a 521 tab? (love my 521 tab btw)
Anyhow, all the tools work great, the screwdrivers are bomb, I really like that it has a place for a spool of wire, and the Coil Master Coiling Kit V3 is absolutely awesome.  Even if you never plan to purchase this kit, I highly recommend purchasing the Coiling Kit V3, because it just makes coil building so much easier.