Law makers clinging to CDC data regarding vaping are in for a rude awakening. This week,  the CDC issued a new report blowing many of the most vehement criticisms made by the anti vaping community out of the water.  These fear mongers have for years told us that the facts don't lie,  in the coming weeks and months we will see if they pay heed to their own words.   The claims we hear are that these devices will act as a gateway for non smokers to become engulfed in nicotine addiction and move on to combustible tobacco products.  These same critics also repeatedly claim we have no data on the long-term effects of electronic nicotine delivery systems.  The plaintiffs in this case are calling  for law makers to take a stricter stance on taxing the products and raising the age at which they can be purchased.
The CDC Report
The newly released paper has put many previous misconceptions into the spot light as being nothing more than baseless accusations.  This is the first actual nationally representative household survey from the United States and pretty clearly paints a picture that the public health concern for a rising tide of new smokers looks highly unlikely.
The study shows that of the people who were surveyed, 0.4% had never smoked and were using a device either every or some days.  Amongst the adults who had never smoked, a whopping 3.4% had every tried an E.N.D.S. (electronic nicotine delivery system), while in total 12.6% of adult Americans had tried an E.N.D.S.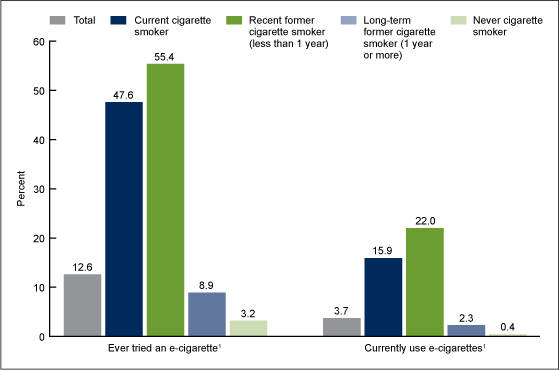 While vapers already knew who they were, it appears the CDC has finally caught up with what is happening in the real world.  E.N.D.S. are being used primarily by current or former smokers or by those who have recently ceased to use combustible tobacco products.
Current cigarette smokers who had tried to quit in the past year were more likely to use e-cigarettes than those who had not tried to quit.
Current cigarette smokers who had tried to quit smoking in the past year were more likely than smokers who had not tried to quit to have ever tried an e-cigarette.
Current cigarette smokers who had tried to quit in the past year (20.3%) were almost twice as likely as cigarette smokers who had not tried to quit (11.8%) to currently use e-cigarettes.

Percentage of adult current cigarette smokers who had ever tried and percentage who currently use e-cigarettes, by past year cigarette smoking quit attempt status: United States, 2014
Contrary to the stance of the anti vaping groups, we see that these tools are being used in attempts at smoking cessation and nicotine replacement therapy.  Over half of the smokers who had tried to quit once or more in the last year had tried E.N.D.S  and 20.3% were currently using them daily.
The part of the report I gained the greatest satisfaction was simple.  Currently just under 4% of American adults are regular users of E.N.D.S.  While this number is relatively low as part of the population as a whole, that is 4% of the people who are making an attempt to live a less harmful lifestyle.
Combining All The Evidence
Were this a standalone report, there would be little cause for jubilation amongst vapers.  In essence, this is a government entity releasing a report that is in agreement with what we have been saying all along.  Placing this release with a report from the CDC in April of this year which stated that the smoking rate amongst high school students was decreasing as the use of e-cigs was rising, has potentially changed the context that the April report should be seen.  The number of students who had never smoked but had tried vaping was less than 1 half of 1% and if the figures shown by the adults are a direct correlation, the current vaping youth are already removing themselves from the grip of combustible tobacco.
In August A.S.H. (Action on Smoking and Health) released a study showing that there is no evidence to support any theory on teens becoming addicted to combustible tobacco after trying E.N.D.S, they in fact showed the opposite to be true,  stating that almost all of the current daily users of E.N.D.S in that age group were previous smokers who made the switch.  When you combine this with evidence from Public Health England that unequivocally states that vaping is between 95-99.9% less harmful than smoking cigarettes the soap box being used by anti vaping groups is getting smaller and smaller.
Final Thoughts
We are currently at a cross roads, not only with in the vaping industry but in society in general.  We have in front of us a group of products that are aiding in tobacco harm reduction and nicotine replacement therapy.  Whether the Senate Democrats pushing for tighter regulations that will destroy the industry want to admit it or not, we are on the precipice of a new age where tobacco dependence is rapidly becoming a thing of the past.   It is only a matter of time before the general public realizes that their cries of "what about the children" actually mean "what about our wallets".
As always, enjoy your vaporizer and vape safe!