As many of you know, Coil Master has consistently released highly beneficial accessories for our vaping equipment, and they've done it yet again with their latest release, the Coil Master Pbag.  The Pbagmis essentially a bag for you to hold your vaping equipment, such as a pouch for your mod, a place for a bottle of e-liquid, and a zipper pouch to hold any loose accessories, like cotton for on the fly rewicking.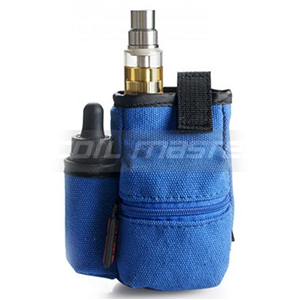 The Coil Master Pbag stands merely 4.33 inches tall, just 3.54 inches wide and only 1.37 inches thick.  It's a compact carrying bag to hold your most vital gear, allowing you to free up your hands and pockets for your daily activities.  The Pbag would be super beneficial for when you're at events, because we all know trying new e-liquid flavors is a must!

The Pbag is constructed of a canvas material, which ensures durability for your vaping equipment, and it's available in Red, Blue, Black and Denim (Denim, denim, denim!).  Now, the Pbag isn't the end all, be all product, but it certainly will fill a void within the marketplace, and that's why Coil Master has become such a successful brand.
If you're interested in the all new Coil Master Pbag or want one for yourself, you can find them here on the Coil Master website.