3. Kanger Nebox
Though the Kanger Nebox may appear just to be another mod, it's much more than that.  Essentially, the Nebox is an all-in-one starter kit, and that's because not only is it a mod, but it's a tank too.  See, this device features a tank that has been built into the device, meaning there's no 510 threading at the top, nor do you have to attach anything on the top of the device other than a drip tip, which it includes.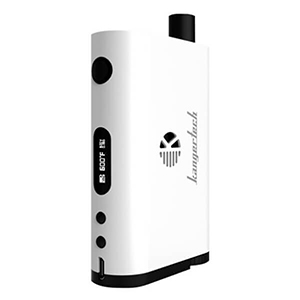 Now that we have that out of the way, you may have already noticed that Kanger didn't slack when it comes to the appearance of the Nebox.  They continue to offer multiple color variations, a black bottom and top plate, black drip tip and black buttons.  Moreover, the Kanger logo has even been cut out in the middle of the device to act as eye candy, as well as providing ventilation for the battery compartment.  Speaking of the battery compartment, the Kanger Nebox houses a single 18650 battery, which can be charge externally or internally through its on-board micro-USB charging port.

Now if it's power you require, the Nebox has an output of 60 watts, which allows for plenty of room to power the coils that is available for this built-in tank.  Furthermore, you'll also be spoiled with temperature control, the ability to power coils as low as 0.15Ω, a delrin drip tip, an OLED screen, and a very large… and I do mean very large, 10mL capacity e-liquid tank!  But, it doesn't just stop quite yet, there's also an included Mini RBA coil, which will allow you to build your own coils and save some money in the process.  All of this for an extremely affordable price makes the Kanger Nebox one hell of a deal.
We feel that the Kanger Nebox should be added to this list of top 5 kanger vape mods of 2016 because it offers such a large tank, plenty of power, and it's all tucked away in a unique compact device.  I do want to point out though, there have been users that claim the Nebox leaks very badly.  I personally used this device for a couple of months as my daily and only with the square OCC vertical coils, and it only leaked probably once every other refill.  And, it only leaked right after I refilled the tank with e-liquid.  I'm still including it in this list because if you can look past the bit of leaking (it leaks right after for just a minute, then stops), it's an amazing device to use.
Kanger Nebox: GET IT HERE