In this addition to the plethora of posts resting on guidetovaping, I'm going to share my review of the Kanger Subox Nano Starter Kit.  In this review, you may notice that the Subox Nano-S is the Pink Edition, and that color was purposely sent as a gift for my awesome wife.  I figured I would share my thoughts on it, then let her enjoy its beauty and performance.  However, she's continued to use the mod for the past 2-3 months now and I haven't gotten around to the actual review process.  I will note that there was a good week or so that she started using a different mod, but ended up going back to the Subox Nano (her twin sister also uses the Subox Nano – aww, how cute.)  None the less, Vapor Authority, I apologize for the wait.
Note: The Kanger Subox Nano Starter Kit was sent by Vapor Authority for reviewing purposes.
Appearance
The Subox Nano Starter Kit is a fantastic little kit, for the beginner vaper and up to the advanced.  It offers a small variety of color options, even black for you dudes, and has a rather small structure to it that makes going mobile with it painless.  The overall shape of the device feels great in the hand, it's lightweight, but its aluminum construction still gives you a sense of durability – like you're actually holding something.
Being a starter kit, you're not only getting the Kbox Nano Mod, but you're also getting the SubTank Nano sub-ohm tank attached.  Both parts of this kit match in color, which only adds as eye candy, and the colored coating looks sleek, no matter which color choice you decide to go with.  The top of this device sports a 510 threaded connection.  One side of the device has a larger fire button, below that is an OLED display screen, under that rests two smaller adjustment buttons, and at the bottom there is a micro-USB charging port.  The opposite side of the device has a magnetic battery door that has the K logo cut out to ramp up its appeal and act as battery ventilation.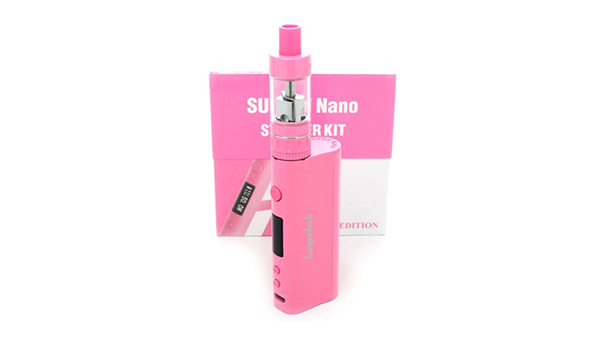 Features
When it comes to features, you're getting everything you would expect from a kit so affordable.  The SubTank Nano-S is constructed of stainless steel, utilizes Pyrex glass for its tank portion, and has the ability to hold a reasonable 3mL's of e-liquid.  The SubTank Nano-S by Kanger, as you would expect is miniature in size, sitting just 51mm tall and 19mm in diameter, so it's just slightly smaller than your common 22mm SubTank Mini that has become so popular.  It also uses all Kanger replacement coil heads, even the new SSOCC coil heads.  However, I and my wife prefer the original square vertical 0.5Ω OCC coil heads.  To us, they're just more consistent, perform better, and that's what we're so used to using (I use the SubTank Mini on the daily).
The Kbox Nano on the other hand, of course, is the perfect pairing for the SubTank Nano-S.  The Kbox Nano also has a miniature size, but don't let its size fool you.  This bad boy or girl accepts a large single 18650 battery, which you can charge while in the device or externally.  Even more, you'll also get to receive the same type of luxury experience you do with any other mod, an OLED screen, a common 510 connection, variable wattage, and a supported minimum resistance of 0.3Ω.  But, where this device really stands out is that it has the ability to range from 7 watts and up to a whopping 50 watts, which is plenty of power for myself, let alone my wife.  With us using the 0.5Ω OCC coils, the power is perfect since the sweet spot for these coils is between 30 and 40 watts.
Performance
Performance is much like any of the other Kanger products available on the market, which is perfect.  You just can't beat having a 50 watt device with an included sub-ohm tank for such an affordable price.  As mentioned above, while using the OCC coils around 35 watts on the Kbox Nano, you get a smooth and perfect vape that's filled with great flavor and vapor production.