A recent ruling by a New York Judge has opened the door for vapers everywhere, as he declared in court that vaping is NOT smoking.
As municipalities, cities and even states are deciding that vaping should be automatically thrown into the bag with smoke-free policies, the court heard a case in which the defendant was cited for using an electronic cigarette in a place where smoking was banned.  During the hearing of People vs Thomas, the state's definition of smoking was brought into question by the defense in an attempt to have the case dismissed.
The case was argued:
Essential to this provision is the term "smoking".

"Smoking" means the burning of a lighted cigar, cigarette, pipe or any other matter or substance which contains tobacco.

An electronic cigarette neither burns nor contains tobacco. Instead, the use of such a device, which is commonly referred to as "vaping," involves "the inhalation of vaporized e-cigarette liquid consisting of water, nicotine, a base of propylene glycol or vegetable glycerin and occasionally, flavoring.

The People contend that no specific prohibition on electronic cigarettes is necessary because "the courts of New York have yet to make a determination as to whether electronic cigarettes are to be viewed any differently under these sections than tobacco cigarettes".

But this is precisely backward. There are no "common law" crimes in New York; this court has jurisdiction only over actions brought pursuant to statutory prohibitions, and only where the accusatory instrument makes out every element of the offense as it is defined by statute (see Penal Law § 1.05 [3]; CPL 170.35 [1] [a], [b]).

Moreover, it is well established that "laws which create crime ought to be so explicit that all men subject to their penalties may know what acts it is their duty to avoid" (People v Grogan, 260 NY 138, 145 [1932].

The legislative body of New York City has taken measures to address this issue. Since April 29, 2014, it has been illegal under New York City's Smoke Free Air Act to use electronic cigarettes in certain public places.

The New York State legislature is also well aware that the Public Health Law does not currently prohibit the use of electronic cigarettes. Indeed, on June 18, 2015, ten days after the occurrence alleged in this case, the New York State Assembly approved Bill A05955, a bill to amend PHL § 1399-o to make the restrictions relating to smoking in public areas applicable to electronic cigarettes."

That bill died in the state Senate, however, and was returned to the Assembly on January 6, 2016.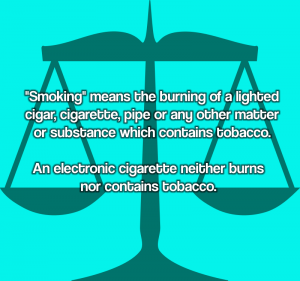 The state, in essence, argued that a ban on vaping should be understood, even though there are no specific regulations against it because:
"The courts of New York have yet to make a determination as to whether electronic cigarettes are to be viewed any differently under these sections than tobacco cigarettes."
The judge stated that this argument was invalid as the definition of smoking and the act of vaping are not in the same category.  Vapor products do not in any way match up to the classification in the State books and, therefore, can not be automatically lumped together.  In essence, the two words can not be mixed and matched.
What Does This Mean
In the short-term, it means that the vaping community can celebrate a victory over those that would see us disappear into the night.
The vaping movement has long known that court rulings were going to play a part in the continuance of the industry but no-one knew that it would come this soon from a place like New York.  While we already know that vaping and smoking are essentially very different things, the general public and lawmakers alike can not seem to grasp the concept of the difference.
In the long-term, however, this is going to spark some major pushes from both sides of the argument.  Vapers will use this case as precedent to overturn bans that have been put into place across the country while lawmakers, lobbyists and the blissfully ignorant will push hard to have the definition of smoking amended to include vaping devices in their language.
This goes to show, however, that for every lawmaker who tries to pervert justice, there is a judge who will put them in their place.
As always, enjoy your vaporizer and vape safe!