2. Eleaf iStick TC 100W
Eleaf has been a manufacturer that has received some wildly great success with past devices in the iStick Series.  What made the series so popular was because Eleaf thought outside of the box.  Instead of offering crazy designs, super high wattages that no one honestly will ever come close to, they instead offered simplistic designs, form factors and technology, resulting in a super affordable device that simply performed as it should.  This last addition to their iStick Series of mods is the all new Eleaf iStick TC 100W.
The iStick TC 100W has been gifted with incredible looks, even though it still maintains that simplistic appearance that it has always managed.  However, even though it looks simple and its functions are user-friendly, there's more to this iStick that will make you rethink the series all together.  First off, the iStick TC 100W has the screen positioned on the front of the mod, rather than the side.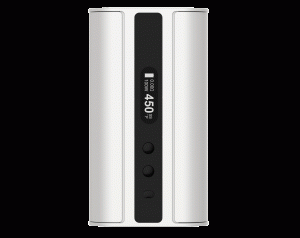 Its adjustment buttons are also positioned on the front, and this is all kept on a black strip that stretches the device.  Since the screen and adjustment buttons are located on the front, that leaves both sides open for room.  And, that is where Eleaf decided to place the dual 18650 batteries, one on each side of the device, with its own magnetic battery door.  And if that doesn't interest you enough, one of the side magnetic battery doors actually acts as the firing button.  Cool design, right?!

But, looks and a cool design isn't all this iStick is cracked up to be.  It actually has the ability to reach up to 100 watts of vaping power, giving you a reason range of power to play with.  This mod wouldn't be complete with just that as the featured functionality though, so it also sports temperature control where it can range from 200 to 600 degrees, and being packed with different modes while using temperature control, such as Nickel 200, Titanium, Stainless Steel, and TCR modes.
Just like the Reuleaux RX200, the iStick TC 100W also has a way of being transformed into a different color scheme.  The iStick TC 100W is available in 3 different color choices: Grey, Black, and White.  By simply removing the magnetic battery doors from a Black iStick, you can switch them out onto the Grey or White iStick.  These magnetic battery doors can be swapped to either color, giving you the ability to completely change the color scheme to your preference.  And, of course you'll be able to purchase the iStick TC 100W at a super affordable price.  With all these features, the looks, and a low price, I would have been crazy not to insert it into this list of the best for February.  Get the Eleaf iStick TC 100W at the link below!
Eleaf iStick TC 100W: GET IT HERE