You've seen our helpful guides, you've read/watched our reviews, and you've witnessed our continuous stream of vape related news, but now it's time that you meet us in person!  Meet the GuideToVaping team at VaperSlam 2, where we'll be embedding ourselves into an action packed weekend located in Charlotte, North Carolina!
Both Blake Brown and myself (Daniel Hall) will be attending VaperSlam 2 Charlotte for all 3 days of the event.  Though this will be our much-needed vacation and a break from writing, that doesn't mean we're not going to be hard at work.  During the 3 days of the event, we've been given early access to capture the moments leading up to this amped event, just as we've done during past conventions, and we'll be filming all throughout the 3 days to share our experiences with those of you who could not make it.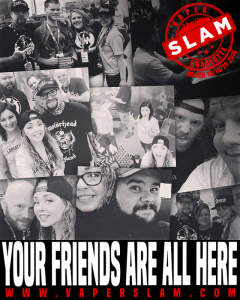 However, for those of you who will be attending this event, we want to meet you!
This is going to be 4 days of insanity (we will also be there on setup day), with an amazing 330 vendors and their teams to meet and get to know, before the convention even starts.
When the doors open and the fun begins, we will be there, documenting the experience for posterity.  The guest speakers, the latest and greatest creations from around the industry – if it's there, we will have it here.  Advocacy will be high on the agenda, letting everyone know what they can do to keep vaping alive and well.  Trying to keep Chris "Freeze" Winfrey still long enough to take a picture will probably be as easy as catching a video of a Big Foot on a snowboard, but we will try for that as well.
For me personally, conventions aren't just about the products, they are more importantly about the people.  The vaping community is a massive family, we all have one thing in common, and VaperSlam 2 will be a chance to see old friends and make new ones.  Each of us has our own story, and I enjoy nothing more than hearing everyone's vaping journey as it is a reality that no one can take away.
As well as "working" with Blake throughout the weekend, I will be there with my broadcasting family from Coast2Coast vapers on Vapers.tv.  On Sunday afternoon, I will be broadcasting live from the event and from the booth of a very dear friend, who I now class as family after meeting at VapeMania last year.  I won't tell you which booth it will be, I will keep that part as a surprise.
I feel as though the actual vacation will not begin until we are back in our respective homes, recovering from this marathon event.
If you are as excited as we are, you probably aren't going to be getting much sleep over the next week, watching the clock and counting down the hours. We are exactly 1 week away from getting this party started at The Park Expo and Convention Center and I now have to go re-pack my suitcase for the 15th time today!
For those in attendance, hunt us down and say hi, for those who can't make it, watch this space because we will do our best to make you feel like you were there.
As always, enjoy your vaporizer and vape safe!