Today, I'm going to be sharing my thoughts in this Kanger TopBox Mini Starter Kit Review.  As many of you are already aware, I'm a huge fan of Kanger products, so this one was very enjoyable to review.  And, what made it even more enjoyable for myself is just how well this starter kit performs.  Let me tell you about…
Note: The Kanger TopBox Mini Starter Kit was sent by VaporAuthority.com for reviewing purposes.
Appearance
If you're looking for a setup that's matched well, has stunning looks, and is themed perfectly in multiple color variations, the TopBox Mini Starter Kit is where you'll want to turn your attention.  This particular TopBox Mini that I have is the Black Edition, which consists of a black mod and tank, while there are red accent colors throughout to offer appeal.
The Kbox Mini Mod is a black satin color, the buttons seem to be a red plastic, but it's just the right touch to make this device worth something to look at.  The top says Kbox Mini, then the opposite side is the 510 connector that has a spring-loaded center pin.  On one side of the device there is the red larger fire button, below that is the OLED screen, then just below sits the two red adjustment buttons and a micro-USB port.  The back side has a magnetic battery door with a Kanger logo cut out for ventilation and to enhance the appearance.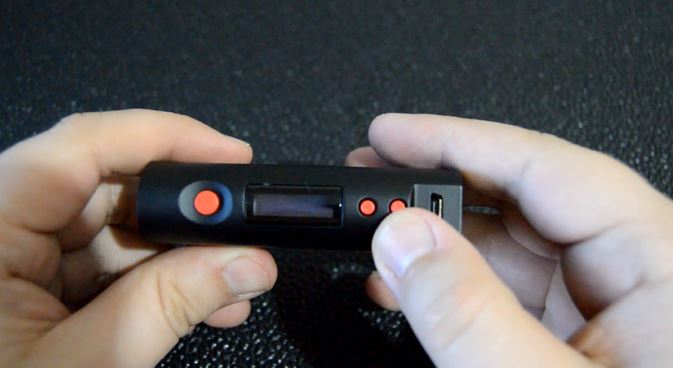 The TopTank Mini perfectly matches the Kbox Mini, having a black coating and the o-rings inside of the tank being red to match.  This tank comes with a black matching delrin drip tip, a clear glass acting as the tank, while the bottom base has air inlets on each side acting as the adjustable airflow control.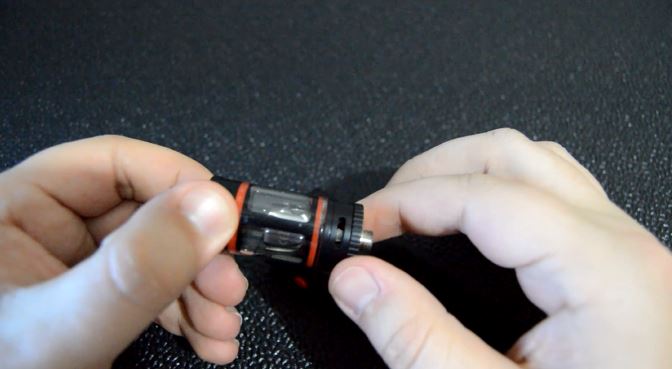 Features
When it comes to features for this starter kit, you're actually getting more than you pay for, really.  Starter kits are so looked down upon, yet the one's that are being manufactured today offer so much more than what they did even a year ago.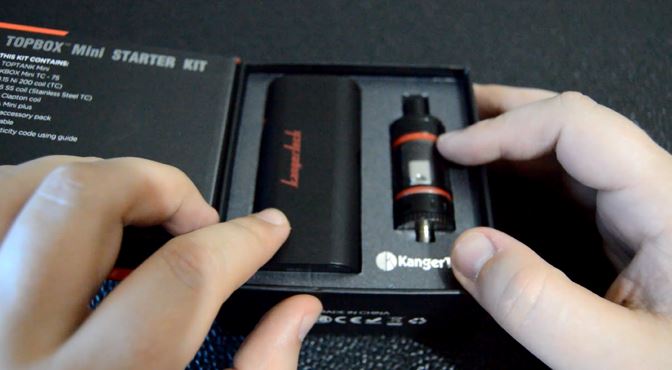 The Kbox Mini delivers a whopping 75 watts of vaping power, it lets you fire down to 0.1Ω, supports NiChrome and Kanthal while in wattage mode, and then it also has a temperature control mode that supports Nickel 200, Stainless Steel and Titanium.  Accessing the temperature control feature is super easy with this device – a simply 3 clicks and you're in.  While in the temperature control mode, you can range from 200 to 600 degrees, giving you a wide range in temperature. Furthermore, you'll get to enjoy the easy access dual magnetized battery door, an OLED display screen, a three button design, micro-USB charging, and this is all powered by a single 18650 battery that is sold separately.
As for the TopTank Mini, I'm absolutely in love.  This tank works great for me, and I was even a huge fan of the SubTank Mini.  This TopTank Mini is merely an improved upon version, offering a new top fill design, it still has dual adjustable airflow control, and you also get a 4mL e-liquid capacity, which is plenty enough with this supposed miniature design.  Now, this tank comes with some nice coils that do perform well, but I'm stuck on Kanger older OCC 0.5Ω vertical coils that have yet to fail me since they were released.  I'm a huge fan of this tank and I'll recommend it to anyone.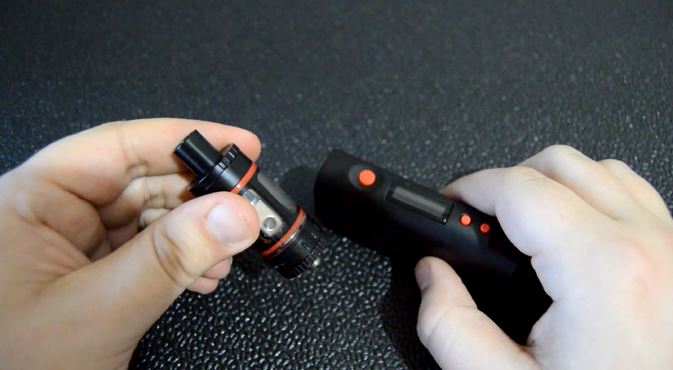 Performance
When it comes to the performance, I have nothing but great things to say.  The Kbox Mini performs great, just as expected and there's nothing I would change about it.  However, I'm more impressed by the TopTank Mini, which performs outstanding!  There's just something about the airflow for me, it's perfect, and I wouldn't have it any other way.  There are some of you vapers that look down upon the SubTank/TopTank Mini, but to be honest with you, it can put all some great vapor production that I'm sure would surprise you.  Be sure to watch the video and see just how well this tank and mod combo can perform.