Today, we'll be taking a quick look at the Coil Master P-Bag.  I have spent the last week giving this vaping accessory a run for its money, putting it through its paces and trying to decide if the concept was the greatest idea for vaping ever, or the craziest.  We'll be looking at the construction, the features, and why Coil Master seems to keep coming out with products that leave vapers initially scratching their heads before the "A-ha" moment.
Coil Master
For those who haven't heard of Coil master, they are currently the leading manufacturer of vaping accessories in the market place.  They sell everything from the original Coil Master Coiling Jigs, full build kits, accessory "K-Bags", and absolutely awesome ceramic tweezers that are basically a Swiss army knife for unscrewing atomizers and stuck tank coils.  They also sell this cute little thing called the 521 tab that is an Ohm reader, volt tester and coil burner all in one system – or as I like to call it, the table top mod, because you can use it to vape.
All of these products have been seen and reviewed on this site, use the search bar at the top to pull up all previous coil master reviews, and now it is the turn of the Coil Master P-Bag.
Let's Take A Look
For all intents and purposes, the P-Bag is a handy carrying case to keep your mod and e-liquid out of your pockets.  The concept is simple and elegant, small and compact, and it allows you to walk around with your mod safe and out of sight.
Construction
The P-Bag is made from a sturdy canvas and comes in a variety of colors:red, black, blue, denim and camouflage – and feels solid.  The stitching, the zipper, even the Velcro strap across the top all feel like they are quality materials that have been well sourced and put together properly.  I picked the Denim material for the simple fact that I spend the majority of my time wearing jeans and wanted something that blended in with my apparel, rather than standing out.
Th P-Bag comes with 2 options for carrying, it has a carabiner style clip to hook onto a belt loop or 2 actual loops on the back for hooking a belt through.  Even with the weight of the device I am using, a 30 ml bottle of e-liquid and a spare tank, both held up to the task they were given.

Functionality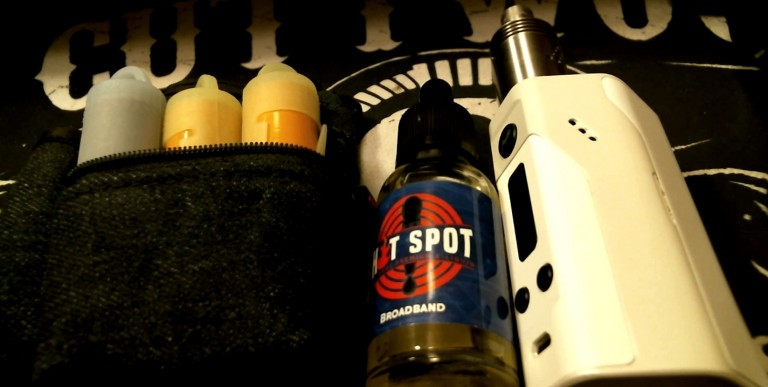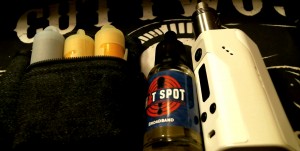 When I first saw the P-Bag, I was worried that the mod I was carrying wouldn't actually fit.  I got the P-Bag at VaperSlam, 5 minutes after I had purchased a Reuleaux RX 200 and at first glance I didn't think that the two were going to be friends.  As it turns out, the Reuleaux is a perfect fit in the P-bag.  If the bag can hold that particular monster, it should have absolutely no problem with any of the smaller devices on the market.
The side pouch for spares isn't huge, but it's ample space for a couple of 18650's or a spare tank.  The P-Bag wasn't designed to carry a whole vape kit, just the essentials you need to get through a few hours out in the world.
The bottle holder on the side is perfectly sized for a 30 ml glass bottle, it holds it snugly so you can probably do a hand stand without losing your juice – if you try this and it falls out, remember, I only said probably…
Appearance
Coming in a variety of color, the P-Bag should appeal to a wide variety of vapers, of this much I am sure.  If you have it on the belt loops, you can pull your t-shirt over it and forget its there, which is one of the most common threads I heard from the younger vapers at the convention center – They apparently have an issue with things that work well but won't be seen as cool by their friends, but if it means my pockets aren't bulging and my batteries are stored safely, I won't complain.