Though the Kanger Dripbox isn't the most groundbreaking device to hit the vaping streets, it certainly opens the doors for new vapers to get a feel of what it's like to use an RDA — not to mention a dripping experience without the hassle of actually having to drip.  I hope you enjoy this Kanger Dripbox Starter Kit Review!
Note: The Kanger Dripbox Starter Kit was sent by AspenValleyVapes.com for reviewing purposes.
Appearance
There isn't too much to comment on as far as the appearance.  There is no fancy screen, only a single button to control the Dripbox, and nothing over the top that hasn't been available to us years ago.  However, the overall appearance of this newly released Kanger product looks pleasing, has a small stature and looks simply enough to use.
The top sports an RDA, which is being called the Subdrip RDA, while the bottom is the Dripmod.  Both were made to work seamlessly with one another, both are color matched, and both share the Kanger logo, as you would expect.  The Dripmod looks identical to Kanger's Subox as far as the shape goes, but has a cutout towards the bottom where a bottle rests.  On the same side there is a fire button, while the oppisite side features the cutout Kanger logo that acts as ventilation and shows off the battery you'll use to power the device.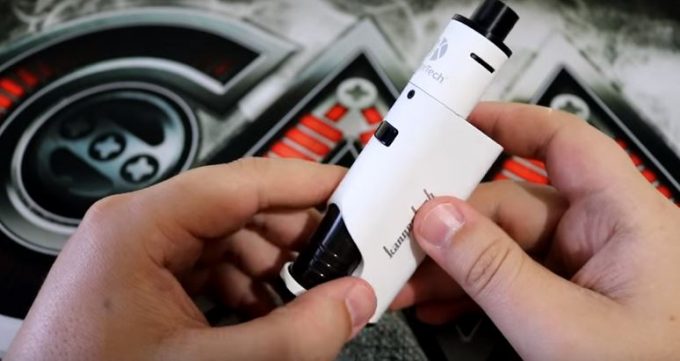 Features
When it comes to its features, the Kanger Dripbox Starter Kit doesn't have many, but the one's it does have is pretty awesome to say the least.  First off, this is a bottom fed mod, meaning e-liquid is fed from the bottom of the device and into the atomizer.  A 7mL bottle sits at the bottom of the Dripmod, allowing you to easily refill it.  When wicks go dry in the Subdrip RDA, simply squeeze the bottle to push more e-liquid onto those wicks.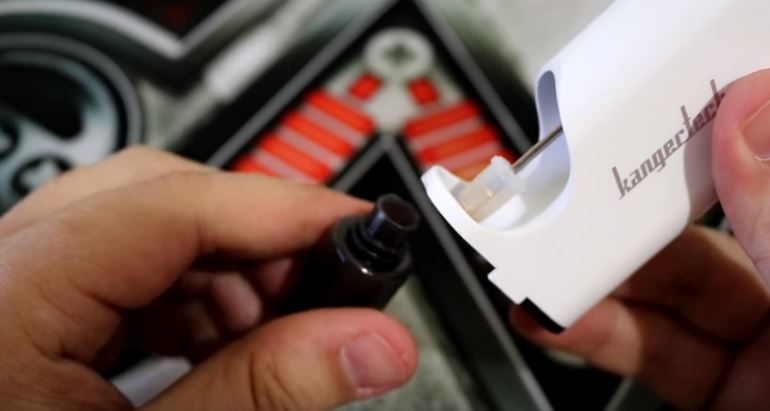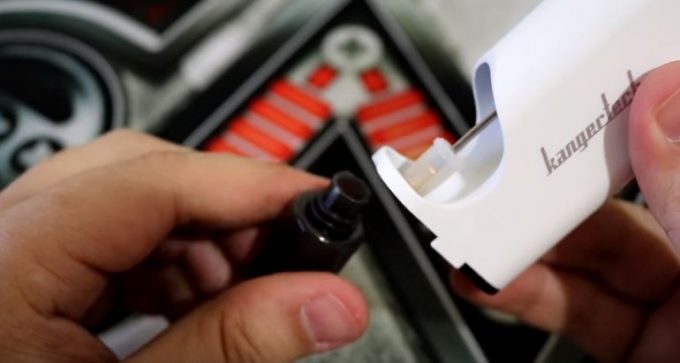 What's really cool about this setup though, is that Kanger has made this RDA to allow you to unscrew the deck entirely, and they also offer replacement decks with new coils and wick already pre-installed.  So, if you're not into rebuilding or aren't sure how to do it, but want that RDA experience, simply unscrewing the deck and screwing on another is as easy as it comes with the Dripbox.  However, you can remove the wick and coils and rebuild it yourself on the cheaply made Velocity style deck.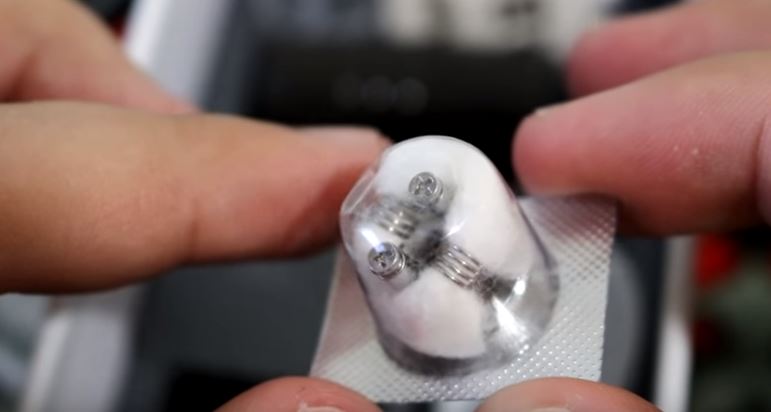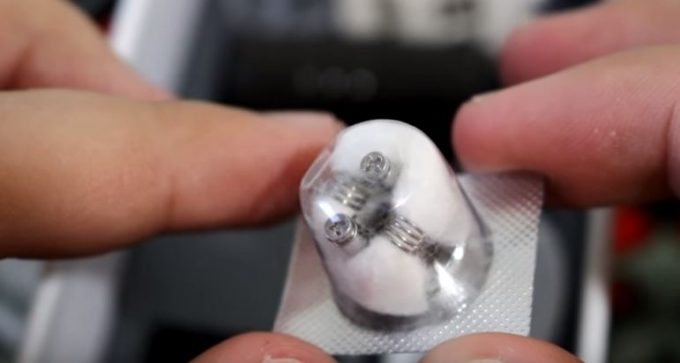 You won't be overwhelmed with fantastic quality here, but you will get a nice experience, especially if you've never used a bottom feeder before.  The Dripbox accepts a single 18650 battery, which means the device is rather small — a battery on one side and a 7mL bottle on the other.  This setup is also very light, being that it's made of aluminum.  In my opinion, it feels like a toy – I like more weight to the mods I use, but I can overlook that as long as it performs well.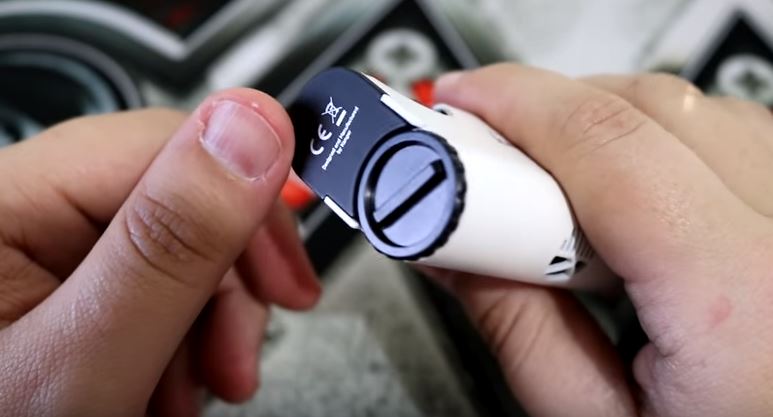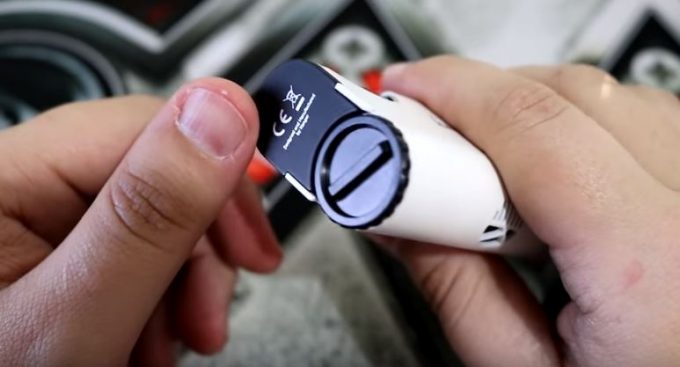 Performance
The Kanger Dripbox is an outstanding setup to own, and it performance is just one of the reasons why I have enjoyed using this Mod and RDA.  What you need to realize though, is that there is no variable wattage or variable voltage controls on this device, because it doesn't have that function.  Instead, the power you receive is determined by how much battery life you have available.  Mix in a fully charged battery and a 0.2Ω dual coil RDA, then producing a good amount of vapor comes easy.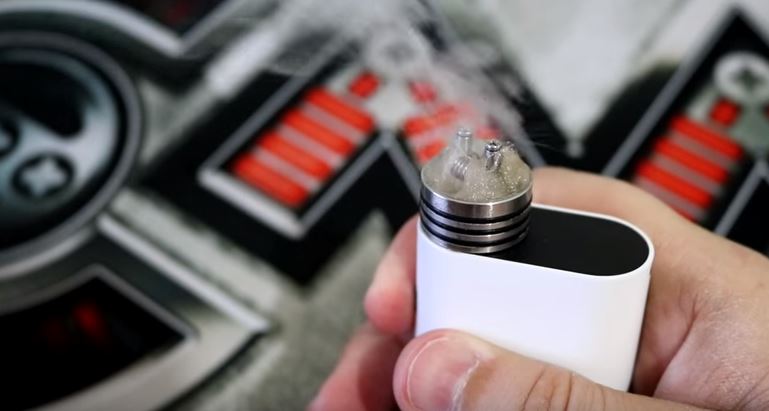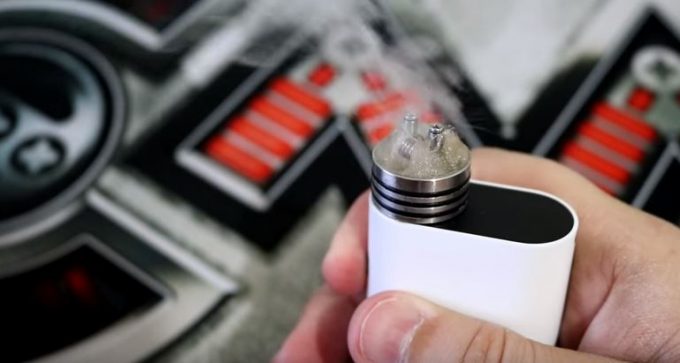 However, once that battery becomes weaker, you're going to notice it severely.  You can of course build your own coils with a lower resistance if you like, but I haven't been able to find information on how low of a resistance this mod supports.  I was personally fine using the coil/deck that is offered with this kit, but I would enjoy a bit more power or a lower resistance than what is offered.  The thing is with this device, is that it's meant for newer vapers who want to get into RDA's or want to experience a bottom fed device, so don't expect this thing to be a complete powerhouse, but do expect a nice performance and great experience.