The iPV400 is the latest vape mod released by Pioneer4You.  For fans of the series, this break away from tradition is a sure-fire crowd pleaser.  As a writer who enjoys Pioneer4You offerings, my longest lasting and hardest working mod (the iPV3 Li) coming from their design boards, this release is exciting.  Even though they are moving away from some of the aesthetics that have made the iPV line so identifiable, they are continuing on the path that has made their technology great.
What To Expect From The iPV400
The first thing you will notice about the iPV400 is its size.  When compared to many other dual 18650 devices, its 88mm x 41.5mm x 28mm frame seems tiny.  Cramming so much technology into this package is a feat in itself, especially when you take into account that it is a 200 watt, temperature control device.
While Pioneer4You has kept the firing button high on the side of the iPV400, the screen and menu/adjustment buttons have moved around to the front face.  Rumor has it that this design element is to help users refrain from accidentally changing the settings while they were hitting the mod.  I am sure that everyone will agree, this does happen from time to time. I am one of the worst for cranking the wattage by accident.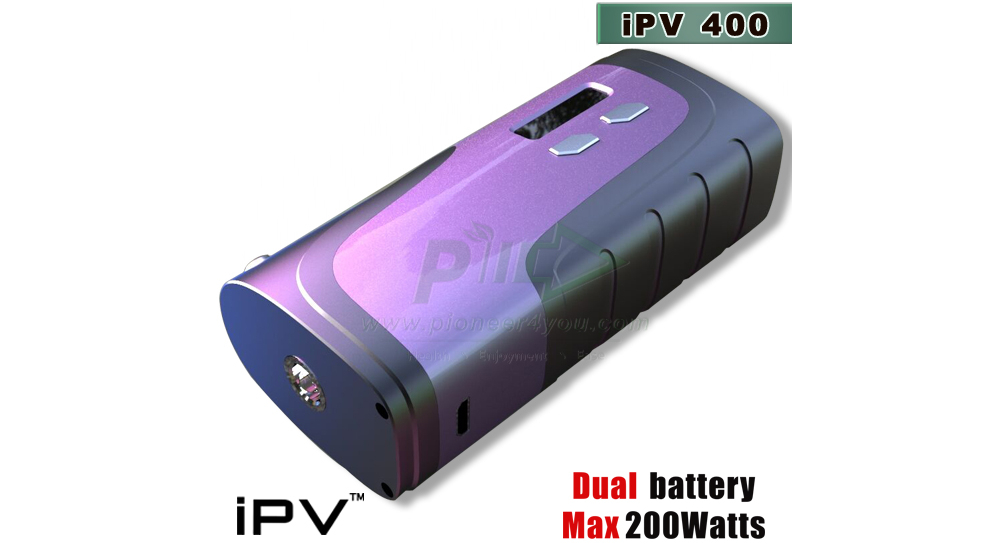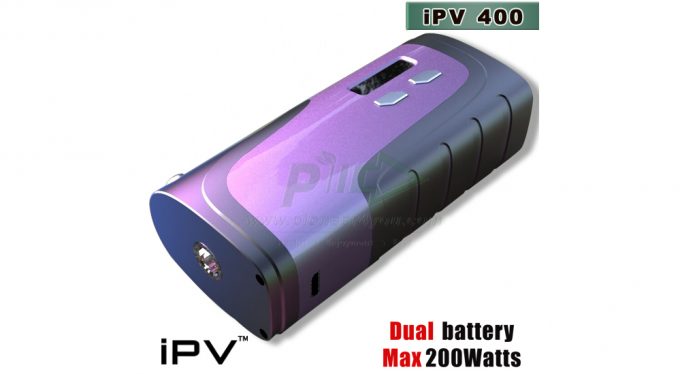 As for the design of the mod, we are currently hearing various reports… some are saying that it will only be available in red, black, and blue on a white body, while Pioneer4You's own site is showing different variations on various bases.  As availability increases, we will find out exactly who is right, but the 6 options I have seen so far all look awesome.
The iPV400 is more than equipped to deal with temperature control.  Pioneer4You is not new to this game, so you can expect settings for Stainless Steel, Ni200, and Titanium coils built-in to the system, as well as the regular wattage mode running up to 200w.  As we would expect from this company, it has reverse battery protection circuitry and a lot more.
SX Pure Mode
If you are a die-hard user of the iPV line, you will already know and love the SX Pure mode developed and used with their latest products.  For those who don't know what this is, this mode works exclusively with Pioneer4You's new tanks, such as the iPV Pure X2 Coil-Less tank.  The technology behind those tanks were ground breaking at the time of release, and is honestly still amazing, removing the need for rebuilding coils and relieving the work of rewicking the system while taking advantage of a special alloy to increase the amount of time between "coil head" replacements.  This advancement increases battery life exponentially and makes the job of replacing cotton a no-brainer.
While the cost of the iPV400 is slightly higher than most recent 200 watt releases, I don't mind paying that price because of my previous experience with Pioneer4You's equipment.
The mods are due for release this week, as soon as we have links we will make sure you have them too.