Pioneer4You is staying on track with exceptional releases to the iPV line, and it looks as though the iPV6 mod will live up to the family name.  The company is expecting the product to be available by June 4th, and we here at GuideToVaping will be returning to this post to update the information as we get it, such as what chipset is being used in the iPV6 and a solid date for the release.  We're going to spend the next 2 minutes looking at the specifications and comparing the iPV6 to other devices now on the market.
What Can We Compare The iPV6 To?
Even though this is a dual 18650, 200 watt temperature control device, and there are many of those in the marketplace now, unless it is a product that has a YiHi chip that is iPV SX Pure compatible, there really is NO COMPARISON.  If you have used any of the recently released Pioneer4You products, you will know exactly what I am talking about here, "SX Pure mode" and the coil heads that it operates with are vapor technology game changers.  Rather than using traditional wraps of wire, Pioneer4You has implemented a coil-less system (more information on the coils can be found here).  The life expectancy of the heads are longer than any coils we were previously using, and they extend battery life exponentially.  As I said, unless a device can take full advantage of this proprietary Pioneer4You technology, they aren't even playing the same game.
Let's Take A Look At The Stats
As with every other regulated device that has been put on the market by Pioneer4You, we have regular wattage and joule modes for Temperature control.  You will have support for Stainless Steel, Titanium, Ni200 coils for those who like to use any of the hundreds of other RDA's, RTA's, and RDTA's that are available on the market.  For those who have gone to the dark side, SXPure mode is front and center.

This mod is exactly the same size as the all new iPV400, which makes these two of the smallest dual 18650 boxes on the market.  The button configuration has significantly changed on the iPV series since the release of the iPV5.  Rumor has it, Pioneer4You did this to help the users of their devices stop accidentally changing their settings when they went to hit the fire button.  
I may have been one of the users that made that particular request.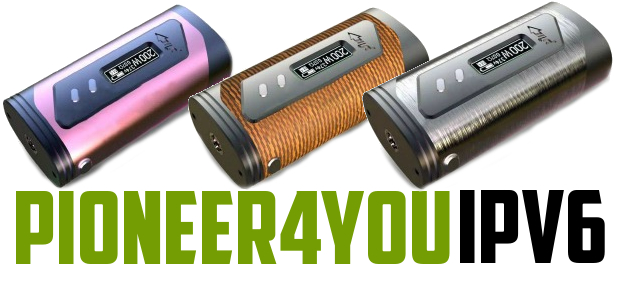 ---
Features and Specs List
Dimensions: 88mm x 42mm x 28mm
YiHi Chipset
Wattage Range: 10-200 Watts
Joule Range: 10-100 Joules (120 for Titanium)
Wattage Resistance Range: 0.15ohm-3.0ohm
Temperature Control Resistance Range: 0.05ohm-1.5ohm
Temp Range: 212-572 Fahrenheit
Temp Control Compatible Wire: Stainless Steel/Ni200/Titanium/SX PURE/TCR
TCR Presets
Dual 18650
Output Voltage: 1.0V-7.0V
Input Voltage: 6.4V-9.0V
Firmware Upgradable
OLED Display
---
The suggested retail price for this particular device will be around $80.  I am fully aware that there are other 200 watt devices on the market right now that can be bought for just over half of this price.  As I already pointed out though, the majority of those device pale in comparison to the iPV line-up, and honestly, knowing that one of my go to unbreakable mods is a member of this family, I am more than willing to pay the extra cash.